The Real Reason B.J. Novak's Face Is Used To Advertise Random Products Around The World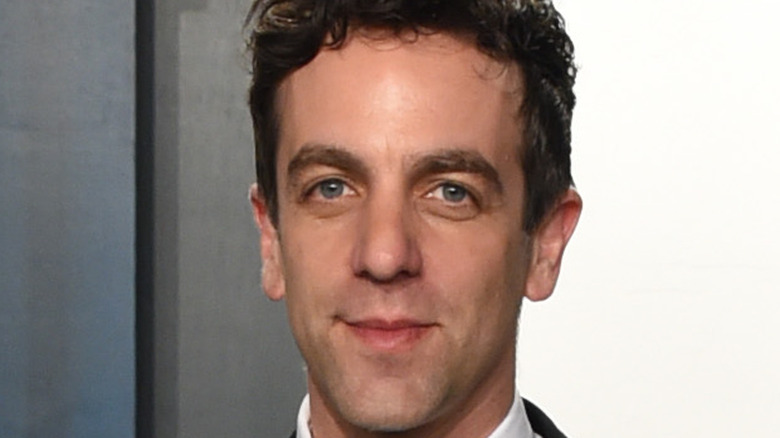 John Shearer/Getty Images
B.J. Novak has had a fascinating career trajectory. The actor best known for playing fan-favorite character Ryan Howard on "The Office" has also found success, as The Guardian notes in a profile, as a comedian, author, and even an app creator. Annoyingly, Novak, who also wrote extensively on "The Office," appears to excel at essentially everything to which he puts his hand. As a young boy in Boston, Novak actually envisioned himself as a real-estate developer with his name splashed on the fanciest buildings in town. He quipped, "I want to be rich and important and a businessman!'" 
Although that childlike plan didn't exactly work out for him, Novak did find wealth and fame eventually. Though, it's worth noting, his headline-grabbing best friendship  with former co-star (and ex-girlfriend) Mindy Kaling aside, the actor doesn't court attention. As he reasoned, "I think I am very proud of being associated with quality things. So if I were massively famous for doing massively beloved things, yeah, that sounds great. I think the pickiness is really just about... I want to be in cool things." 
How, then, did the "Office" breakout manage to end up advertising random stuff all over the world?
B.J. Novak has a perfectly reasonable explanation for his international recognizability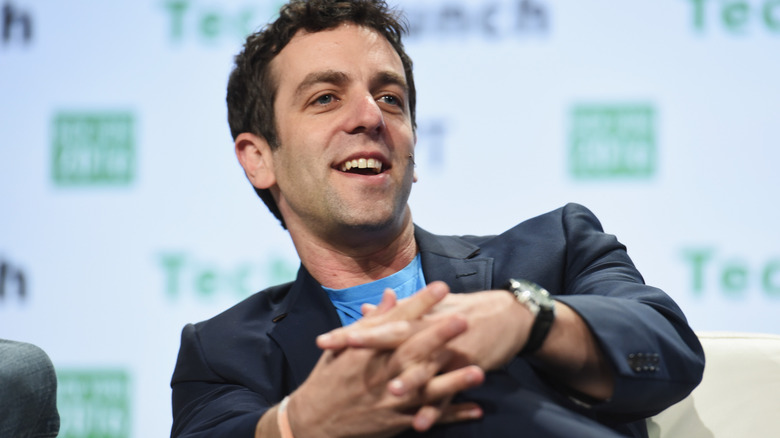 Noam Galai/Getty Images
Comedic actor B.J. Novak is the face of several random products sold the world over, but don't worry if you're only just finding that out because, evidently, so is he. The "Office" star shared a selection of the items his undeniably trustworthy face is being used to promote on Instagram Stories, including but not limited to; a rain poncho, a cologne, and an electric face shaver. The actor clarified he hadn't actually posed for any of these advertisements, however. Rather, as he explained on his Instagram Story (via E! News),"Years ago, someone mistakenly put an image of me on a public domain site," which has led to Novak being used for increasingly strange ads all over the world. As for why the comedian hasn't taken action to stop this from happening, Novak reasoned, "I am too amused to do anything about it."
Similarly, fellow actor Simu Liu, who recently featured as the lead of Marvel's "Shang-Chi and the Legend of the Ten Rings," has been spotted by eagle-eyed fans in tons of hilarious stock photos. The difference is Liu, then an out-of-work actor, actively participated in the photos to earn some cash back in 2014. Sadly, the Marvel star earned just $120 for the shoot in question, but he broke out soon after. In his own Instagram Story (via BuzzFeed), Liu quipped that anybody looking to make a quick buck in a similar manner should, "Think twice before doing a stock photo shoot because they own the photos FOREVER."