Why Chicago Fire's 200th Episode Was So Tough To Film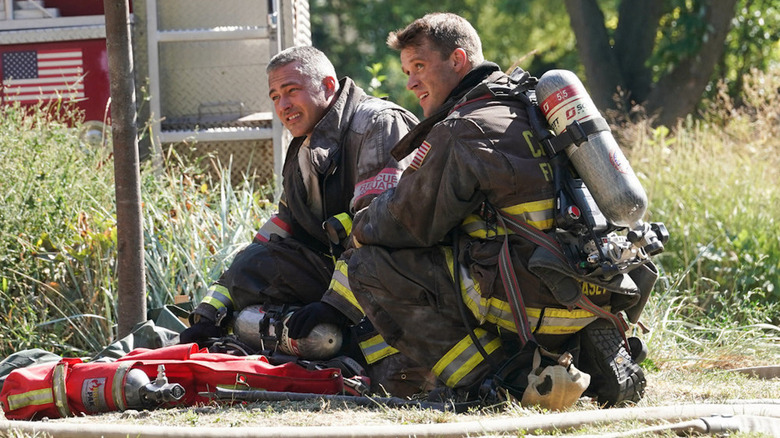 Lori Allen/NBC
When a TV show has a big anniversary, they generally go all out, and the 200th episode of NBC's "Chicago Fire" was certainly no exception. Executive producer Derek Haas described watching the episode as "emotional, life-changing, and tough to view," adding that the episode "was tough to film" (via TV Insider). Here's why. 
While there have been plenty of characters coming and going on "Chicago Fire" over its 10 seasons, Matthew Casey had been a mainstay since the pilot. But the 200th episode was the final episode for the character, who's played by Australian actor Jesse Spencer, as he confirmed that he's going to move to Portland, Oregon to take care of his late best friend Andy Darden's sons for three years (from USA Today). This meant that the show was filled with emotional goodbyes between Casey and the other characters.
According to TVLine, Casey's exit came at the request of Spencer. The actor explained his reason for leaving "Chicago Fire," at least for now, by saying, "I realized I've been doing TV for a long time. I added it up, and I think this year is my 18th year of network television. ... It was a difficult decision because I've loved the show from the start, but there are other things that I would like to do in the future, and there's some family that I need to take care of, and 18 years is a long time" (from TVLine).
The 200th episode of Chicago Fire was emotional all around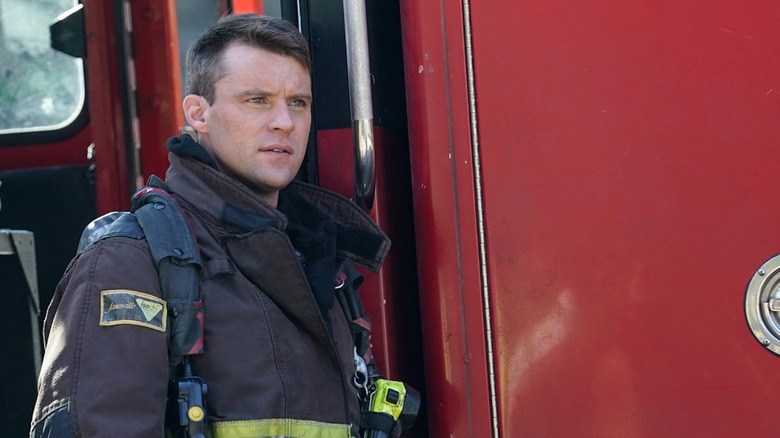 Lori Allen/NBC
For those who work on "Chicago Fire," saying goodbye to Matthew Casey also meant saying goodbye to Jesse Spencer. Executive producer Derek Haas, who wrote the episode, used the speech Deputy District Chief Wallace Boden delivers to Casey as a chance to reveal his own feelings about Spencer leaving. "That was a really difficult scene to write," Haas revealed. "Jesse meant so much to me" (via TVLine).
It was also a challenge for Spencer since his character had finally started a relationship with Sylvie Brett, who's played by Kara Killmer. "It was difficult because I really like Kara," Spencer told TVLine. "We've established a really, really nice relationship. I loved working with her... But it was written really well into the episode, because they're trying to make this relationship work, but they know that he's leaving."
But as tough as it may have been to say goodbye for the viewers and for those on the set, the end result was undeniably riveting TV. "We write emotional episodes and it's impossible not to get invested as a writer," Haas explained to Forbes. "You feel it intensely, and sometimes you picture what it's going to be and then it's better than what you thought it was going to be."