Did Ivanka Trump Paint The Town Red With An Early 40th Birthday Party?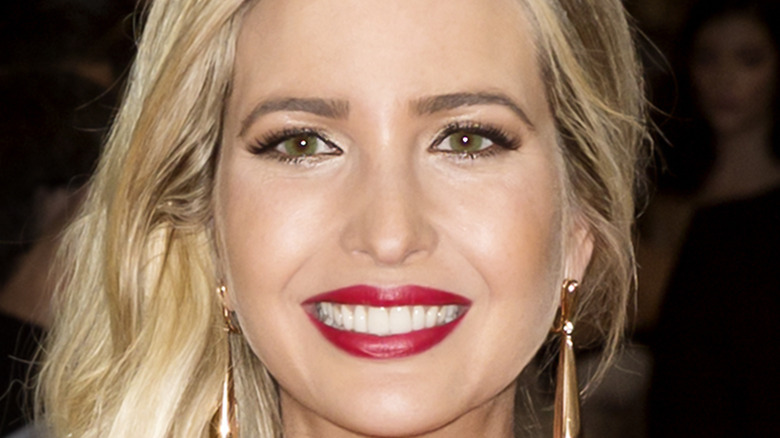 Ovidiu Hrubaru/Shutterstock
Although attempting to keep a low profile since leaving the White House, Ivanka Trump has been no stranger to the spotlight. From her controversial stint as White House advisor to her father, former president Donald Trump, to her iconic fashion choices, the paparazzi can turn nearly anything to do with Ivanka into breaking news. Her birthday being no exception.
This Saturday, the former boardroom judge of "The Apprentice" turns 40 and Page Six reports that she had an early celebration with an all-girls getaway to Miami, Florida. A source close to Ivanka tells Page Six that it was a caviar and champagne celebration with friends from New York and Miami sharing, "It was two days of boating, beaches, and bubbly."  
The gals were seen eating dinner on the patio at the exclusive Surf Club in the Four Seasons before heading to the private club ZZ's where they danced under the stars.  
Ivanka Trump had a surprise birthday visitor
A source revealed to Page Six that during their girls' birthday dinner celebration, they were greeted by a surprise guest, Ivanka Trump's husband. The source stated, "Jared made a cameo at the Surf Club dinner." The trip wasn't completely out of Jared Kushner's way, though. In January, upon leaving Washington D.C., Ivanka and Jared along with their three children moved to an exclusive island in Miami called Indian Creek (via Forbes).
A source for Page Six revealed that the couple is doing well adjusting to the Florida lifestyle, stating, "They're loving it down there. It really suits them." A rather large fan Instagram account, @Ivankaisthequeen, shared the latest news of her recent 40th birthday extravaganza. This may be comforting to Ivanka fans as her Twitter and Instagram accounts have been stagnant since May 5 of this year. While she hasn't been posting, she has been celebrating.