Inside Anthony Michael Hall's Relationship With Molly Ringwald Today
Frank Micelotta/Getty Images
Fans of classic '80s films will remember Anthony Michael Hall from his work in movies such as "National Lampoon's Vacation," and "Weird Science" (via IMDb). However, some of his most memorable films may be "16 Candles" and "The Breakfast Club," in which he co-starred with actress Molly Ringwald. Hall was a member of the famous young '80s actors group known as "The Brat Pack." The group also consisted of Emilio Estevez, Rob Lowe, Andrew McCarthy, Demi Moore, Judd Nelson, and Ally Sheedy (via Country Living). The gang of actors starred in multiple films together such as "St. Elmo's Fire," and have become beloved pop culture icons with Ringwald as the face of the "Brat Pack."
While the group likely become close while filming the slew of movies, Showbiz Cheat Sheet reports that Hall and Ringwald shared a special bond, especially when they were filming "The Breakfast Club" together. According to the book "You Couldn't Ignore Me If You Tried," which details the group's movies, which were directed by John Hughes, sources claimed that Ringwald and Hall spent a lot of time together. "Although the entire group was growing close, Anthony Michael Hall and Molly Ringwald spent the most time together of any cast members," the book reads. "Not only because they had already worked together, but because they were the only actual teens in the cast. They were required to spend many hours together with their on-set tutor."
So, are Ringwald and Hall still close today?
Where do Hall and Ringwald stand today?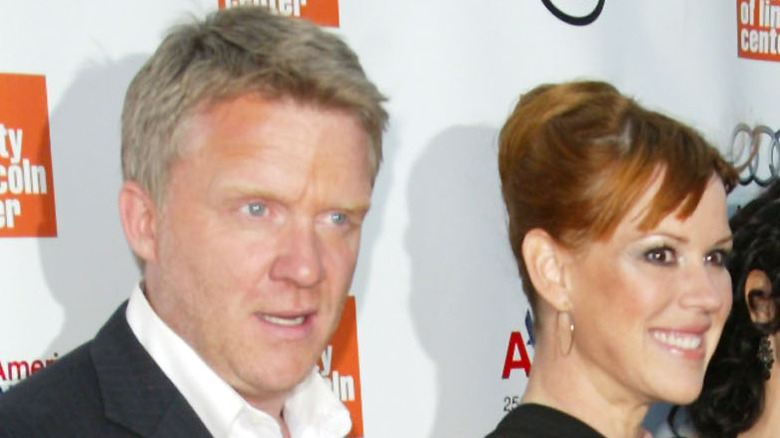 John W. Ferguson/Getty Images
In 2020, Anthony Michael Hall opened up about his relationship with '80s "It" girl, Molly Ringwald, per Page Six. Hall admitted that he and his "Breakfast Club" co-star did have a romantic relationship shortly after filming the iconic movie. Although it didn't las long, he looks back on his young romance with fond memories. "It was puppy love," he said. "She didn't have the time of day for me when we made 'Sixteen Candles.' We did 'Sixteen Candles,' and I was annoying to her ... but it was fun," the actor added.
In 2018, Ringwald wrote a piece for The New Yorker, where she revealed that scenes from her classic films would be offensive and inappropriate today, like when Hall's character on "The Breakfast Club" took a peak under Ringwald's character's dress. Hall admitted that he didn't read the article, but that he agrees with the sentiment. "I think in that time, they were done in a good-spirited way. It wasn't meant to offend, but I think as time has gone by, absolutely," he said. In addition, Hall revealed his feelings about Ringwald today, saying that they've remained friends since their days as young stars. "She's wonderful, a great lady. We've been friends since and I've seen her over the years" (via Page Six).
Now the pair are entertaining a new generation of film lovers with their iconic roles.