How Jamie Lee Curtis And Lindsay Lohan Use Code To Stay In Contact After Freaky Friday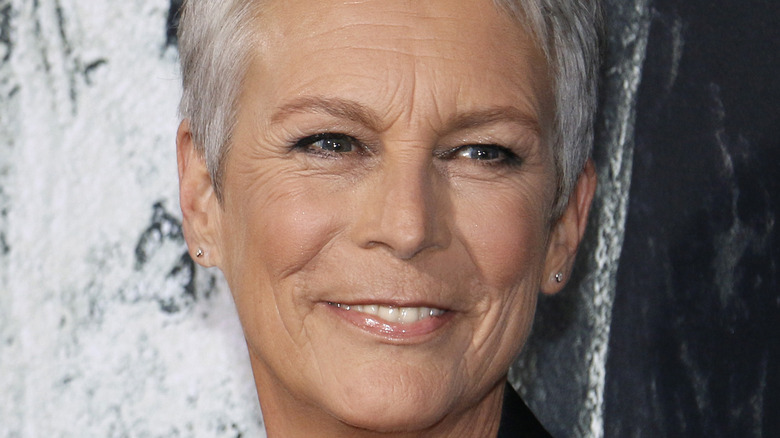 Tinseltown/Shutterstock
There's no denying that Lindsay Lohan was a teen idol in the 2000s, particularly due to the release of "Mean Girls" in 2004. But before "Mean Girls" — and after "The Parent Trap" — there was "Freaky Friday." Released in 2003, the film is a remake of Disney's first two iterations of "Freaky Friday," released in 1976 and 1995, respectively, per the Huffington Post. And those movies were, in fact, based on a novel published by Mary Rodgers in 1972.
The 2003 iteration of "Freaky Friday" centers around Tess Coleman (a workaholic mom played by Jamie Lee Curtis) and her punk teenager daughter Anna (portrayed by Lohan). The two are unable to get along or understand each other — but when they magically switch bodies (hence the name "Freaky Friday"), the mother and daughter have to set aside their differences so no one figures out what's really going on — and find a way to switch back.
In addition to nailing the part — fans are still obsessed with Curtis' portrayal in the film — she also made a longtime friend in her co-star. And, as it turns out, both Jamie Lee Curtis and Lindsay Lohan still communicate... just in a bit of a "freaky" way.
Get the details about Jamie Lee Curtis and Lindsay Lohan's enviable text chain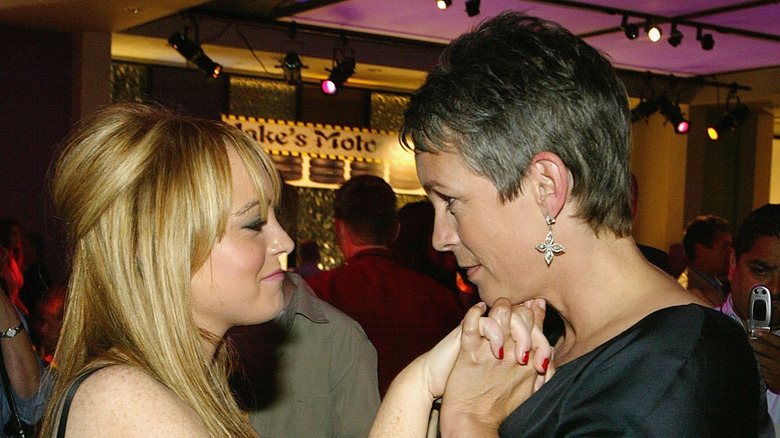 Carlo Allegri/Getty Images
While it's natural to lose touch with co-stars after a film wraps, such is not the case for Jamie Lee Curtis and her "Freaky Friday" on-screen daughter, Lindsay Lohan. The "Halloween Kills" star revealed to Yahoo! that she and Lohan maintain an ongoing text conversation — and even have a secret code they use in order to ensure the sanctity of the other's identity.
As Curtis explains it the origin of the code, she and Lohan were spending a lot of their time in between scenes listening to "Like I Love You" by Justin Timberlake. " ... There's a rap in the middle of that song by Clipse," the actress said, noting that she and Lohan "were trying to learn the words." To further their efforts, Curtis and Lohan attempted to write down the words as they heard them — and, given that this was 2003, they couldn't Google the lyrics from their phones. "We were writing them down, and then we would do the scene, and then we'd play the song and try to lip-sync the few words that we knew." So, when Curtis and Lohan text today, their secret code is: "What was the song we were lip-synching to in the car?"
Unfortunately, since Curtis relayed this anecdote, she and Lohan are now in need of a new secret code. Maybe fellow "Freaky Friday" co-star Chad Michael Murray will have an idea. After all, the iconic star did once make out with Murray on set (in order to make Lohan more comfortable with kissing him on-screen).