The Truth About Alex Bregman's Wife, Reagan Bregman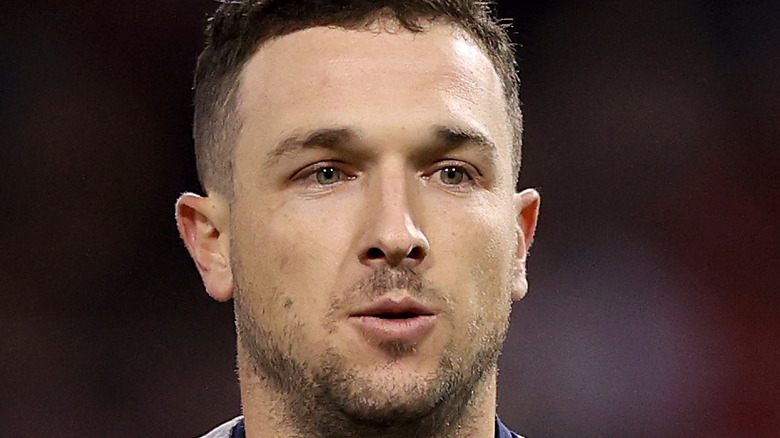 Elsa/Getty Images
Since making his Major League Baseball debut in 2016, third baseman and shortstop David Bregman (nicknamed A-Breg) has been impressing the world with his talent. According to the Major League Baseball's website, the Houston Astros player was the youngest member of Team USA when they won the gold medal in the 2017 World Baseball Classic and was named MVP of the 2018 MLB All-Star Game. When he is not playing ball, Alex is spending time with his wife, Reagan. The pair met when Reagan came to Houston to visit with old friends — one of whom was dating Alex's friend. "One of my girlfriends was dating his friend," Reagan told The Knot. "It was crazy because I didn't want to be [at dinner]. And then we went on a date, three or four days later."
Though the pair faced many long-distance hurdles due to Alex's Houston Astros game schedule, they ultimately knew that they were meant to be when they each happily sacrificed other aspects of their lives in order to see each other as often as possible. "When we both realized we were willing to sacrifice things to make things work, we realized it was it," Reagan told The Knot. "She was driving back and forth every weekend, three hours there and back, waking up at 5 a.m. to get to work. She was working her tail off and coming to see me," Alex added. In December 2020, Alex and Reagan tied the knot in an intimate ceremony.
Who is Alex's wife, Reagan?
When Reagan Bregman first met Major League Baseball player Alex Bregman, she was working in Enterprise Business Development at Google. According to her LinkedIn profile, Reagan helped "gaming companies migrate their workloads to the cloud" at Google from February 2018 to August 2020. Prior to working at Google, Reagan worked as a Business Development Representative for Oracle and as a marketing consultant for Tastebud. Reagan also attended Texas A&M University and graduated with a bachelor's degree in marketing in 2017.
According to Houston CityBook, Reagan was born in Louisiana and moved around quite a bit as a child, due to the fact that her father was an oil drilling rig manager. She eventually moved to Katy, Texas, where she spent many of her formative years.
This past summer, Reagan, who also has experience as a model, launched her own athleisure clothing brand for women, called Exiza. The athleisure brand sells athletic but stylish gear like biker shorts, leggings, sweatshirts, and sports bras. Reagan has worked hard to make her Houston-based brand as ethical as possible, partnering with reputable United States manufacturers that pay their workers a fair wage. "We believe that engaging in any form of activity is considered self-care," Exiza's website reads. "By removing the pressure to achieve an aesthetic outcome, we are free to be confident in ourselves and move for the love of our bodies. At Exiza, we create clothes that you will feel great in — inside and out."