The Brow Pencil Kourtney Kardashian Can't Live Without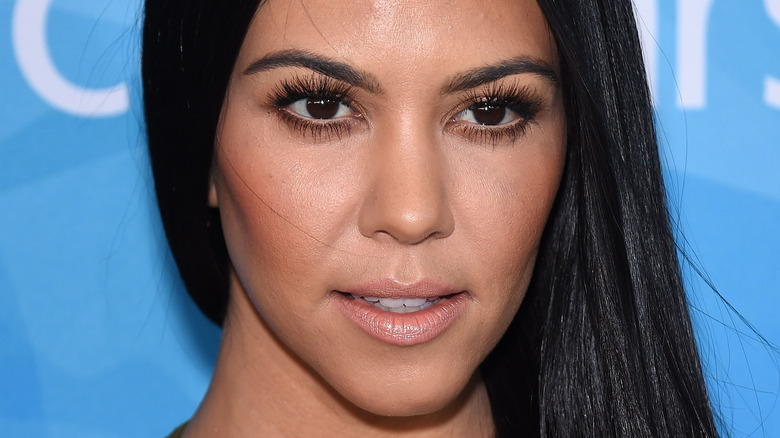 DFree/Shutterstock
We may receive a commission on purchases made from links.
Out of all the Kardashians, Kourtney Kardashian has always seemed to be the most low-maintenance of the family when it comes to makeup. She's often seen with natural-looking makeup and has long promoted clean beauty. Heck, she even went to Capitol Hill to advocate for better beauty standards (via Washington Post). So when she names her favorite brow product and it's also super affordable, people take notice. 
While her sisters were busy bleaching their eyebrows and altering their brows shapes, Kourtney has always kept it pretty natural (via W Magazine). It's sort of her "thing." That doesn't mean that she doesn't use products, though. We all know how long it can really take to get a natural-looking makeup look. In her Beauty Secrets video for Vogue, Kourtney names some of her go-to products, like the Tarte Amazonian Clay Matte Waterproof Bronzer and her tried and true Make Up For Ever Lift Concealer. But the sneaky little brow pencil was one of the products that you won't want to miss out on.
In the Beauty Secrets video, Kourtney used the Kelley Bake Brows Brow Defining Brow Pencil to achieve a seriously stunning brow. Ready for the best part? This long-loved Kardashian product is just $24 and is even available on Amazon. You won't believe how easy it is to use either.
Kourtney's go-to product is easy to use
While Kourtney Kardashian has tons of different beauty tips and tricks on her website Poosh, the Beauty Secrets video that she did for Vogue shows just how easy it is to use Kourtney's go-to brow product. In fact, the application of her Kelley Baker Brows product is one of the shortest segments in the video. All she does is line the bottom of her brow, fill it in a bit, and brush through with the spoolie part of the product. "I pretty much stay with the shape. I don't do any crazy tricks or anything," Kourtney says in the video. "I just kind of fill in a bit."
Apparently, that's exactly what the product was designed to do — apply your brows quickly and easily. As Us Weekly mentions, reviews of the product say that the shape of the pencil gives such an easy application. Not to mention that the product is double-sided with a pencil and spoolie, so you don't need to worry about carrying multiple brow products. Oh and it's twist-up, so you don't need to worry about a sharpener. Honestly, it's totally made for everyday women. It's also really incredible that even celebrities love it.
Kourtney's secret to getting the best brow shape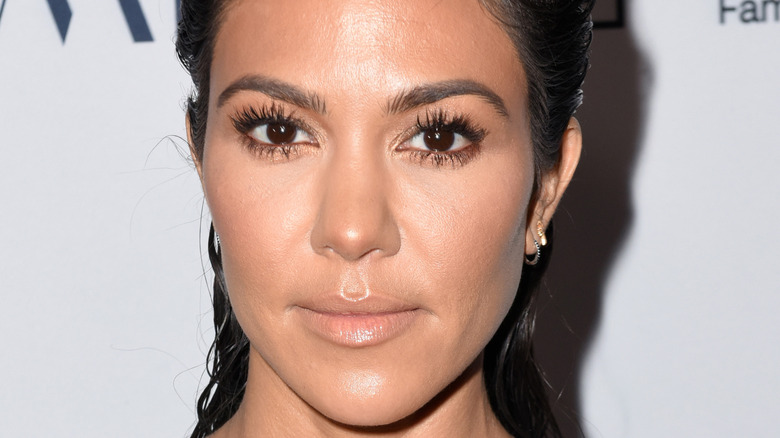 Vivien Killilea/Getty Images
As far as the perfect application, Kourtney Kardashian seems to have learned form the best. In an interview with Fashion Magazine, Kelley Baker talks about how to achieve the perfect brow, and her advice is spot-on to how Kourtney applies it in the video. "Try to keep your brows as close to their natural shape as possible," Baker tells the publication. "Don't try to give yourself something that just doesn't belong to you, because we can always make what you have better, clean them up, and add extra definition. You want to try to be real to what your natural shape is."
If you don't quite have the perfect shape yet, Kourtney has some advice for you in that department as well. According to Poosh, she grows out her eyebrows using Castor oil. It's a natural oil that you can rub onto your brows and eyelashes to promote hair growth, according to the publication. Castor oil is technically proven to work for hair growth, but it is healthy for hair. "There are limited studies that demonstrate castor oil's direct effect on hair growth. However, there are many indicators that suggest that it could certainly play an indirect role in contributing to the healthy growth of hair," Ann Kohatsu, product developer at Ceremonia, told Harper's Bazaar.
All in all, if Kourtney Kardashian is looking this good after these two affordable products, the items are definitely worth a try.