Alec Baldwin's Wife Hilaria Is Afraid This Will Happen To Him
Mark Sagliocco/Getty Images
The truth of the tragic on-set shooting accident involving Alec Baldwin is still unfolding, as police retrieve evidence and witnesses give their testimony. The incident has sparked discussions over the use of real guns on movie sets and debate over who bears the most responsibility for the events that led to the death of cinematographer Halyna Hutchins. 
Some critics assert that Baldwin himself is to blame. TV personality Piers Morgan, for one, has said that, because the actor was also an executive producer, he should have been aware of the pre-existing safety issues on his film and double-checked his gun before using it (via Daily Mail).
One person squarely in Baldwin's corner is his wife, Hilaria. Since the incident, her Instagram account has included a photo of their two hands clasped, with the caption, "I love you and I'm here." 
She spent a day driving around in search of a quiet retreat and finally decided on Manchester, Vermont. When paparazzi found and followed them, Hilaria stood close to her husband, filming the proceedings as he fielded their questions. She snapped at a reporter who had forgotten Hutchins' name and ordered the paps to "go home" after the Q&A session ended (via TMZ).
On Oct. 30, 2021, Hilaria once again stepped up in her husband's defense. Speaking exclusively to the New York Post, the mom of six explained, "I brought [Alec] up here because we have to mourn Halyna's death. Alec had a really traumatic thing happen, and I am trying to limit the PTSD."
Hilaria Baldwin worries about her husband's mental health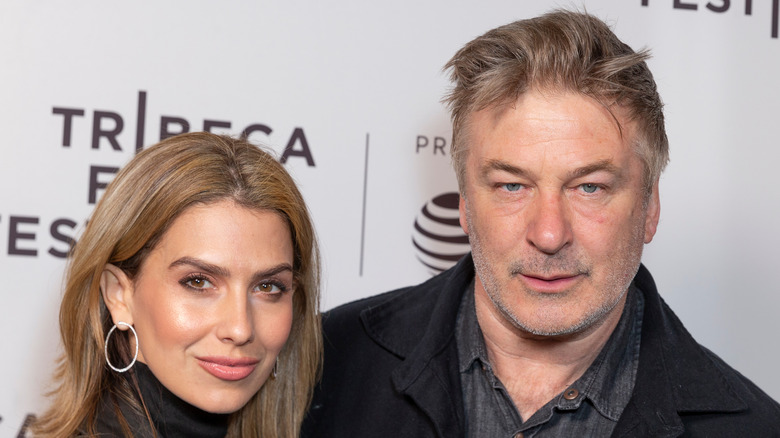 lev radin/Shutterstock
Hilaria Baldwin may have good reason to worry about husband Alec's state of mind. Post-traumatic stress disorder (PTSD) is a condition most often associated with military veterans, but it can occur in anyone who has seen or been through a traumatic event, per the Mayo Clinic. The symptoms vary according to person and can occur either right after the incident or emerge long afterward. 
Nightmares, flashbacks, persistent memories, and distress over reminders of the event are common. Someone with PTSD may deliberately avoid situations that remind them of the event. Other symptoms include depression, sleep changes, self-destructive behavior, irrational anger, detachment from family and friends, and more. 
The Mayo Clinic adds that many cases of PTSD ease over time. If symptoms continue for more than a month or interfere with daily living or relationships, professional help is recommended. It hasn't yet been reported that Alec is actually suffering from PTSD or seeking counseling, but one can assume that the shooting incident is affecting his emotional state in some way.
While the Baldwins seek peace in the Vermont woods, Hilaria has made one attempt to give their children some sense of normalcy. On Halloween, she posted photos of their family in costume. "[The children] were so happy, and that warmed my mama heart," she wrote.