Why Pete And Chasten Buttigieg Spent Halloween In A Hospital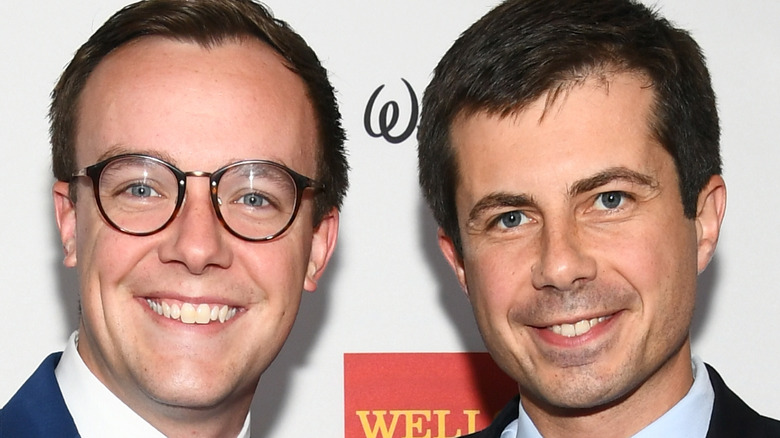 Emma Mcintyre/Getty Images
It was a very special Halloween for Transportation Secretary Pete Buttigieg and his husband, Chasten, as they got to spend it as parents for the first time. In September 2021, Buttigieg and Chasten announced the birth of their twins, Penelope Rose and Joseph August. Although the proud parents did not disclose if their children were born through surrogacy or adoption, it was clear the Buttigiegs were thrilled to expand their family.
Pete tweeted the news with a picture of himself, Chasten, and their tiny infants. "Chasten and I are beyond thankful for all the kind wishes since first sharing the news that we're becoming parents," the tweet read. "We are delighted to welcome Penelope Rose and Joseph August Buttigieg to our family." The month before, they announced that they were about to become parents. 
Although they were thrilled to spend Halloween with their little ones, the occasion did become a bittersweet one for the Buttigieg family.
Pete and Chasten Buttigieg had news about their son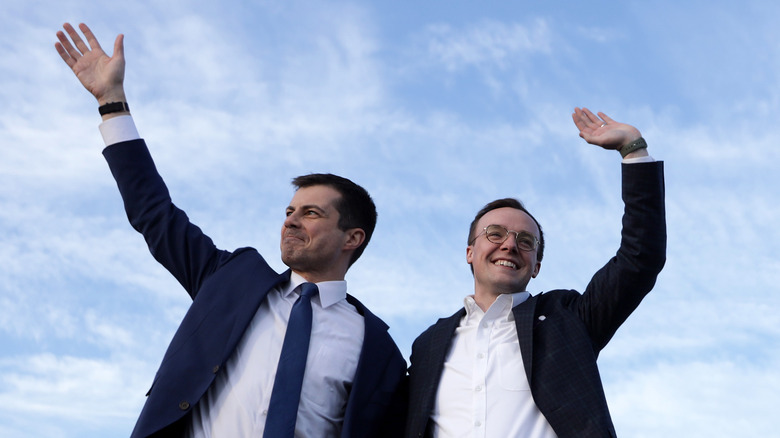 Alex Wong/Getty Images
Although Pete and Chasten Buttigieg made the best of it with smiles and costumes, they spent Halloween in the hospital with 2-month-old Joseph August, whom they have nicknamed Gus. It was Chasten who took to Instagram to post photos of himself, the transportation secretary, and the babies in costumes. 
Pete explained their costumes during a Sunday morning appearance on CNN's "State of the Union." "So yeah, my husband Chasten found these ... it's a little hard to describe, but basically they're, like, these traffic cones," he said (via People). "They're infrastructure. Basically they're going to be going as infrastructure."
In one photo, Pete is seen holding one baby and smiling, while, in a second photo, both men are holding another baby, who appears to be hooked up to medical tubes of some sort.
"Happy Halloween from these #twinfrastructure safety advocates!" Chasten wrote. "As you can see, we're spending this Halloween in the hospital. Gus has been having a rough go of it but we're headed in the right direction. We're so thankful for all of the love and support shown to our family these last few months." 
He added: "And also, for the dedicated and kind medical professionals who have helped take care of our two little pumpkins as they've grown stronger, healthier, and cuter."
We're wishing Gus a speedy recovery from whatever is ailing him.