Royal Fans Rejoice Over Rare Candid Photo Of Meghan Markle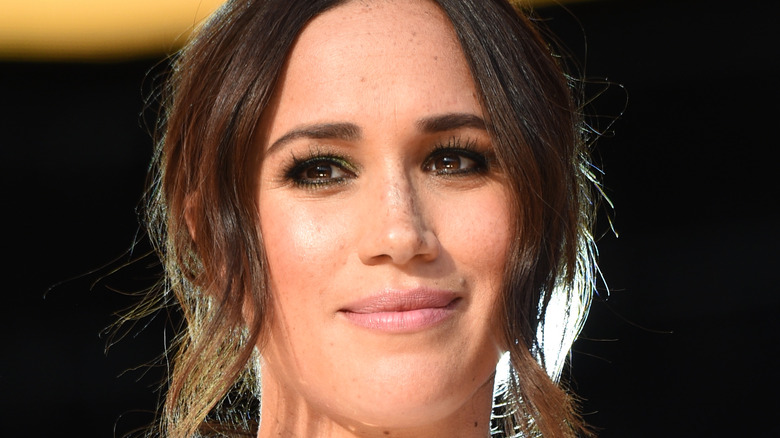 Kevin Mazur/Getty Images
As the Duchess of Sussex, Meghan Markle is photographed regularly, as she attends formal engagements and glam events. Before marrying Prince Harry, she was an actress, meaning, once again, photos of her were snapped at star-studded and sophisticated happenings. This weekend, though, a wonderful, grainy, and candid picture of her was shared to social media.
Over the years, Markle appeared in films like "Get Him to the Greek," "Remember Me," and "Horrible Bosses" and on TV shows such as "General Hospital," "CSI: NY," "Century City," "The War at Home," and "Fringe." She was also a briefcase girl on "Deal or No Deal," but her most well-known role was as Rachel Zane on "Suits" between the years of 2011 and 2017 (via Celebrity Net Worth).
And a couple of days ago, a hangout with one of her "Suits" co-stars, Rick Hoffman, who portrayed Louis Litt, was captured and shared to Instagram. It was commented on by tons of pleased fans, who were all gushing over such a natural and beautiful photo of the duchess.
Rick Hoffman was just one star from Suits invited to Meghan Markle and Prince Harry's wedding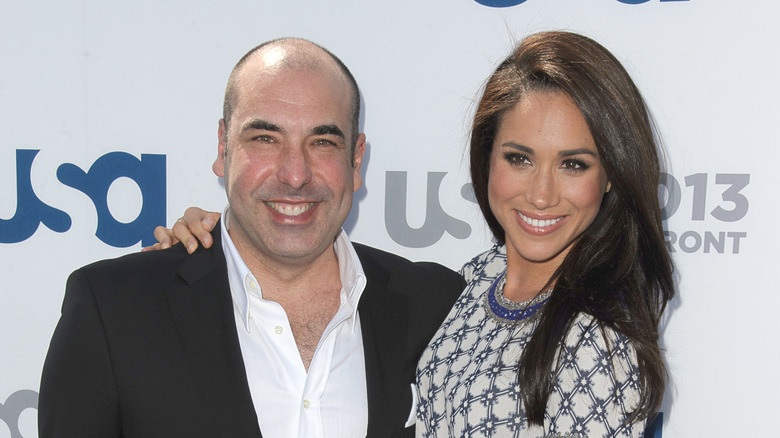 Dave Kotinsky/Getty Images
Rick Hoffman was just one of the stars of "Suits" invited to Meghan Markle and Prince Harry's wedding in 2018, along with Patrick J. Adams, Gabriel Macht, Sarah Rafferty, Gina Torres, and Abigail Spencer, as reported by The Daily Mail. That was certainly a classy affair, with photo after photo being taken of the royal couple and their guests.
"We went, and we had the best weekend," Hoffman told E! News. "I don't think I could have had a better weekend. We had the most fun weekend as a group ... It was gorgeous, from beginning to end. We had an amazing experience. Never will forget that, ever."
Plus, those who watched "Suits" know that Markle's real life influenced the television series a bit, even after her departure. In particular, there was a line about "the prince of England" spoken by her character's father, Robert Zane, who was played by Wendell Pierce, per The Daily Mail.
Meghan Markle relives 'the good ol' days' with Suits co-star Rick Hoffman
Now, back to the present day: Over the weekend, Rick Hoffman uploaded an image of him and Meghan Markle. The two were enjoying drinks, the caption read "the good ol' days," and the duchess was caught mid-laugh.
This cute and casual image of the co-stars featured a refreshingly candid pose from Markle, and many remarked about how much they enjoyed it. "I can't LOVE this enough," said one. "MEGHANNNNNNN WE LITERALLY LOVE HERRRRRRRR," wrote another. "I loved how close the cast and crew of 'Suits' were," read one of the many comments about how much the cast and show was loved.
This is not the first time Hoffman has shared a rare photo of Markle. On May 26, he turned again to Instagram to upload a black-and-white image of the two, alongside co-star Patrick J. Adams. The stars seemed to be at a table read for "Suits," the caption said "A long time ago ... in a galaxy far, far away," and Markle was making a kissy face. She may not be giggling and puckering up at all of her current royal engagements, but it certainly is nice to see the down-to-earth side of her come out even more, as she reunites with old pals ... pals who, thankfully, then share these moments with the world (so a big thanks to Mr. Hoffman)!