Was Donald Trump's Golf Course Involved In An Insurance Scam?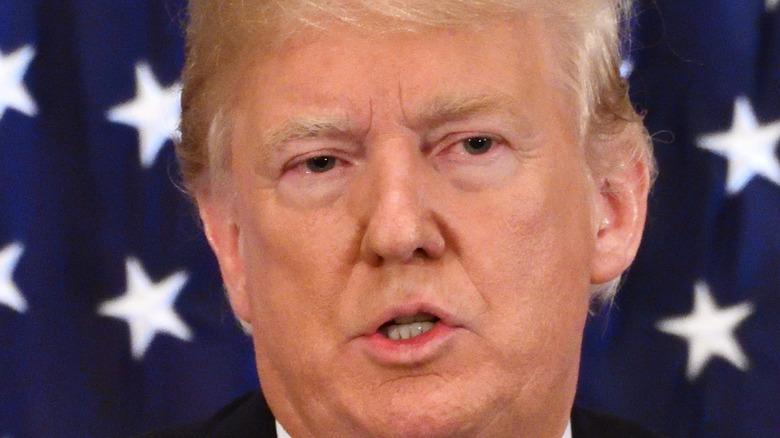 Evan El-Amin/Shutterstock
Donald Trump owns a luxury golf course, and he's known to be an avid golfer — more so than any other United States president in recent memory. In fact, golfing may have even been the surprising thing he was doing when he lost the 2020 election. All of this came off as hypocritical, though. According to The Washington Post, Trump was a harsh critic of former President Barack Obama's golf outings, only for Trump to spend hundreds of days golfing during his four years in office.
"I'm not going to have time to go play golf," Trump promised his followers before the 2016 election, rather devoting himself to working for the people. After all, his slogan is that he wants to "make America great again." That didn't turn out to be true, though. Trump golfs so much that he has a relationship with Tiger Woods, the esteemed pro golfer.
While Trump's golfing claims turned out to be hypocritical, some of his management practices at his own golf course may prove illegal. According to Trump Golf's website, the former president owns courses in Scotland, Dubai, Indonesia, and several American states, including Florida, New York, and California. It's his property in Westchester, New York, though, that may be headed toward an investigation of fraud.
Donald Trump's Westchester golf course settled a prior lawsuit in 2016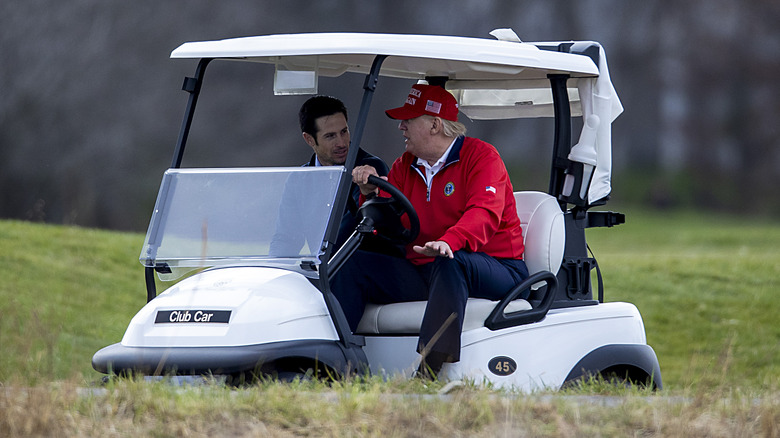 Tasos Katopodis/Getty Images
The latest news regarding Donald Trump's Westchester, New York golf course comes from Rolling Stone, which received exclusive news about its alleged insurance fraud case. Trump's New York properties have caused him trouble in the past. The Trump Organization has even sued New York City over one of these properties, but this is different.
According to Rolling Stone, Trump's Westchester golf course experienced a flood in 2011, but the golf course's insurance claim awarded them $1.3 million in damages — much, much more than the course actually needed to recover. Moreover, the course's damages were never fully fixed. "The work was never completed," a former employee told the outlet. "They basically Band-Aided it."
So, where did the money go, and why was so much money claimed on the course's insurance policy? According to a Trump representative, everything is squared away. His representative said, "The insurance claim at issue was amicably resolved more than a decade ago following a series of well-chronicled storms across Westchester County that dumped more than five inches of rain on the Village of Briarcliff Manor, causing extensive damage and flooding at the golf course and surrounding areas."
Still, others aren't convinced. Sources continue to come forward alleging that this case is real and that this money was undutifully given to the golf course, which has experienced previous lawsuits regarding "illegal" course modifications that made the flooding worse. Trump settled this lawsuit in 2016 right before his election bid, but his former employees haven't forgotten.