Can This Leave-In Conditioner Keep Your Hair Looking Healthy?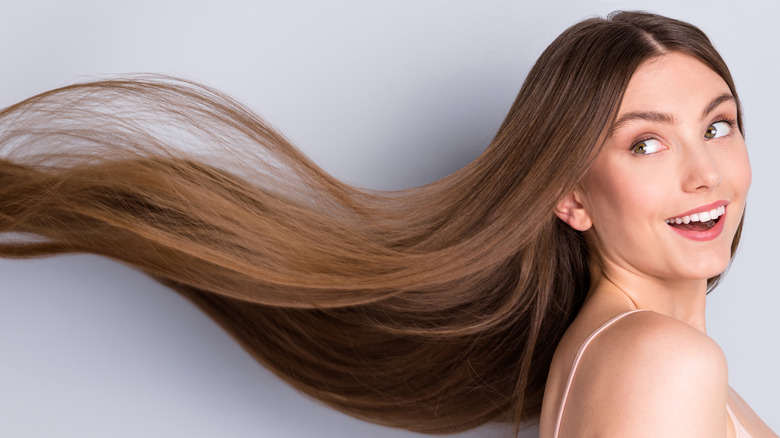 Roman Samborskyi/Shutterstock
It's funny how a beauty product can be so aptly named. Sometimes that "Lash Extensions" mascara really does leave your lashes looking like they have a fresh set of extensions put in. Or perhaps that "Cold Plunge" Pore Mask (via Daily Mail) really feels like placing your face in an ice-cold tub of water. Yet, never has a name self-fulfilled its prophecy quite like It's a 10's Miracle Leave-In Conditioner.
Some beauty products manage to be nostalgic. Amidst a sea of exciting, fresh new releases, you still find yourself reaching for them out of familiarity. After all, you know they're going to work, so why drop that extra $20 on a gamble? It's A 10's Miracle Leave-In Conditioner has been around for ages. While the brand continues to expand the range, that classic blue bottle with its purple lid remains a favorite. Indeed, this little unassuming bottle has safely maintained its icon status over the decades.
With such a densely populated haircare market, it's a miracle (pun intended) that a product can hold its own through every new release and remain a holy grail for many. If you've been a beauty fan for ages now, you'll probably recall It's a 10's Miracle Leave-In Conditioner was one of the first leave-in conditioners in the game. With five-star reviews across the board, fans repeatedly claim that this is a ten-out-of-ten product. But why?
Why this leave-in conditioner is, indeed, a 10
The reason the iconic bottle has officially sold 14 million bottles per year as of 2020 (via InStyle), is that it takes care of your every hair need. The range comes in various formulas that target different needs, from a keratin edition that helps straighten your hair to a deep conditioning mask — but its most basic original form is what people love most. "Not only does it smell excellent but it does literally do everything," claims Hanna Ibraheem at Stylist, and she's not alone.
The self-proclaimed "miracle" product does everything from smoothing your hair to de-frizzing it to leaving it extra shiny. Its official claims are 10 benefits (hence the name), including detangling your hair, protecting color, preventing split ends, stopping breakage, adding shine, and even doubling as a heat-protectant spray (via Its A 10 Haircare). 
Fans everywhere rave about how this cult classic delivers on each and every claim, unlike any other hair care product. No matter the website, the reviews section of this product will constantly be overflowing with users claiming "I fell in love the first time I used it" or "Without a doubt one of the best leave in conditioners that I've ever tried" (via Influenster). The rare 4.5 star rating with 23,000 reviews tells you all you need to know about how much your hair needs this.