The Actual Makeup Products Emilia Clarke Wore As Daenerys In Game Of Thrones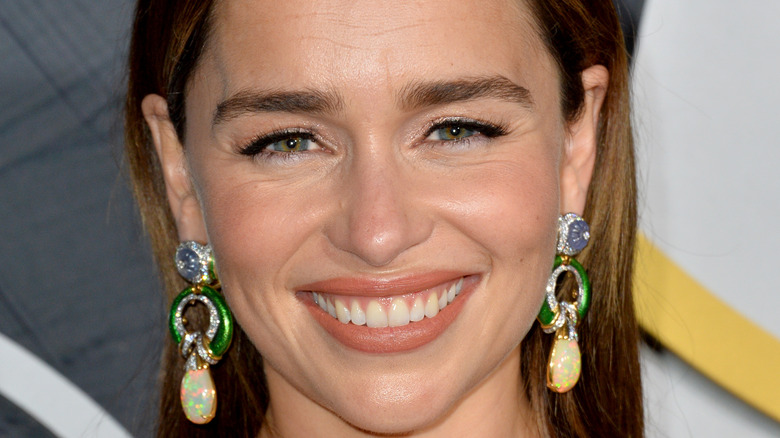 Featureflash Photo Agency/Shutterstock
We may receive a commission on purchases made from links.
Emilia Clarke went by several names during her time on "Game of Thrones," including Daenerys Targaryen, Khaleesi, Mother of Dragons, Breaker of Chains, and Queen of the Andals (via HBO). The feirce character went through one of the most interesting — and disappointing — arcs on the show, and Clarke handled each development with poise and dedication. The London native discussed how she feels at peace with what happened to Daenerys on "Game of Thrones," but she hopes to gain more clarity on the experience over time.
Speaking with The Hollywood Reporter in 2021, Clarke said, "I think it'll take me to my 90s to be able to objectively see what 'Game of Thrones' was, because there's just too much me in it." She added, "Daenerys has a part of my heart. She is in there, and I'll never forget." Clarke's portrayal of Daenerys captured the hearts of millions of viewers as well, some more so than others.
Hundreds of people named their daughters after the character at the height of the show's popularity, and despite the trajectory Daenerys ended up taking, they don't regret their decision (via Buzzfeed News). While we love the idea of naming your daughter after a strong female character, we'd prefer to emulate the Mother of Dragons in other ways — like copying her makeup routine.
If you've ever wanted to recreate Emilia Clarke's looks in Game of Thrones, these are the actual makeup products that were used on Khaleesi to achieve her signature glow.
A variety of makeup products were used to create Daenerys' look in Game of Thrones
In addition to taking down the bad guys and being a literal queen, Emilia Clarke was serving looks as Daenerys Targaryen in "Game of Thrones." From her gorgeous white-blonde hair to her immaculate gowns, Daenerys was as beautiful as she was fearsome (via ScreenRant). Though we can't raise a trio of dragons, we can at least steal some of Clarke's beauty products to recreate her makeup routine at home.
According to Brittany Cale on TikTok, a variety of products were used to create Daenerys' signature look on the hit HBO show. Daenerys was known for her natural beauty, so makeup artists used the Lucas Papaw Ointment on Clarke's lips to achieve a light sheen with added hydration. Armani's Luminous Silk Foundation was the go-to choice for Clarke's face, while a hint of Stila blush created her sun-kissed glow. Lastly, Bobbi Brown eyeshadow paired with a touch of Lancȏme eyeliner finished off her eye makeup.
To prepare her skin for filming, Clarke would visit Georgia Louise, a La Mer global skincare advisor and esthetician, who created a unique skincare regime for the actress (via Women's Health). For Clarke, Louise focused on lifting and brightening the actress' face by applying La Mer The Renewal Oil and then using a gua-sha tool to get Khaleesi's skin ready for whatever Westeros threw at her.