Katie Lowes Spills On Her New Netflix Show Inventing Anna - Exclusive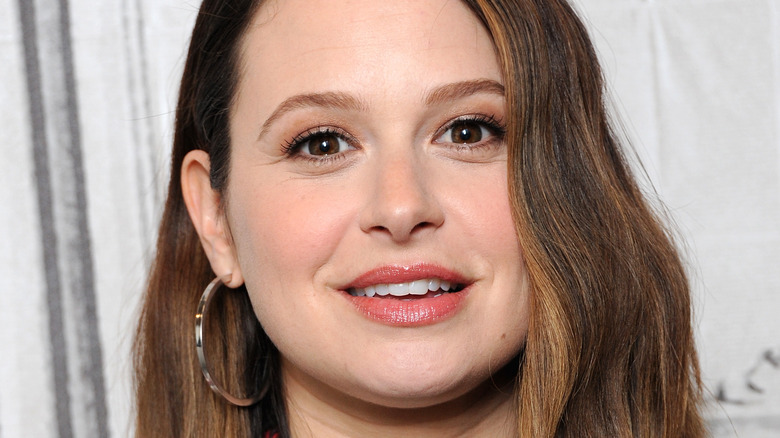 Desiree Navarro/Getty Images
Every time Shonda Rhimes has a new show in the works, people get excited (which is totally understandable, if you ask us). Now, fans can hardly wait for her newest series "Inventing Anna" that's set to hit Netflix next year. Based on an in-depth article published in New York Magazine in 2018, the series revolves around an Instagrammer named Anna Delvey, who tricked some of New York City's wealthiest into loaning her money to fund her extravagant lifestyle. Crazy enough, this character is a real-life person — and we can't wait to see what happens next.
Yet, what may make the wait even more unbearable is all the teasers that have been all over the Internet, especially when it's the actors spilling some on-set stories. "All my scenes are with Julia Garner and Laverne Cox, and it was just the best time," actor Katie Lowes gushed to The List in an exclusive interview. She also gave us an inside scoop on her part in the limited series.
Here's how Katie Lowes became her character Rachel
Katie Lowes has worked with showrunner Shonda Rhimes for quite some time. The two met on the set of the political drama "Scandal" back in 2012 and have now reunited to tell this real-life story. "I've never played a real person before," Lowes told us, which made it even more exciting to play the role of former Vanity Fair writer Rachel Williams in "Inventing Anna."
Since the series is based on a real-life story (Williams was one of the many women who Anna Delvey stole tens of thousands of dollars from), Lowes had to do some digging to get her part just right. Luckily, there was a lot out there on her character, too. While filming the series, "Rachel was out doing her press tour for her book," Lowes explained. Yet, while some fans may be familiar with this real-life character, Lowes promises that her take on Williams will be something completely new. "My character, yes, is based on a real person. But I would say that it's just more inspired by her," she told us, adding, "I sort of definitely take my creative license." In fact, even fans of her character Quinn from "Scandal" will be surprised by Lowes' performance in "Inventing Anna." "It's a very different character from Quinn," she said. "Oh, my gosh. It's so different. I'm very, very excited for you guys to see it."
What is Katie Lowes up to now? You can catch her speaking at La Quinta by Wyndham's free virtual "Thankful for Mom" meetup on November 3 at 8 p.m. EST. The event runs each week through November 17.