The Secret Meaning Behind The Queen's Jewelry At Her COP26 Speech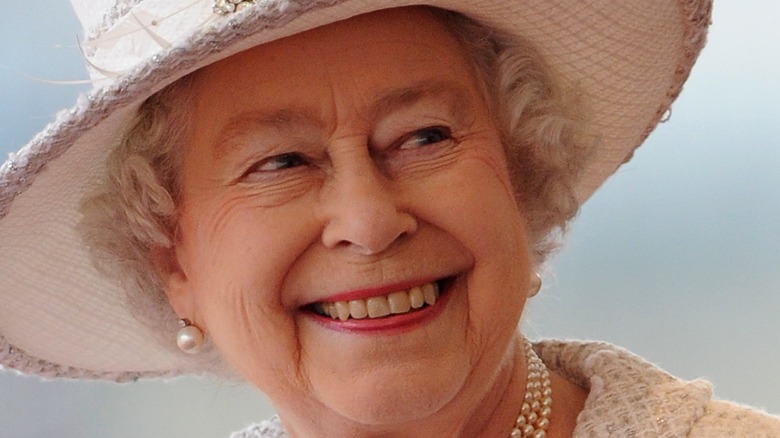 Wpa Pool/Getty Images
Last night, Queen Elizabeth II — while wearing a very notable diamond and ruby brooch — addressed world leaders at Cop26, the United Nations Climate Change Conference, which was held in Glasgow (via New York Times).
"This is a duty I am especially happy to discharge, as the impact of the environment on human progress was a subject close to the heart of my dear late husband, Prince Philip, The Duke of Edinburgh. I remember well that in 1969, he told an academic gathering, 'If the world pollution situation is not critical at the moment, it is as certain as anything can be, that the situation will become increasingly intolerable within a very short time ... If we fail to cope with this challenge, all the other problems will pale into insignificance.'"
She went on to say how proud she is of Prince Charles and Prince William for carrying on the environmental efforts (via The Daily Mail).
Queen Elizabeth's brooch depicts an insect that once surrounded Prince Philip, while he was on an environmentally-driven trip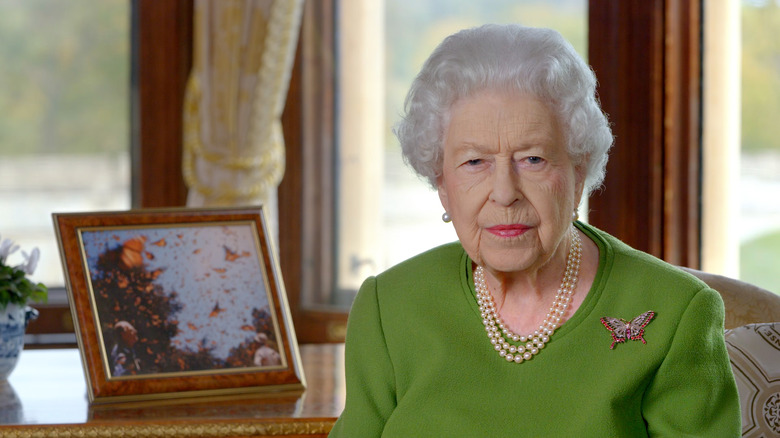 Handout/Getty Images
The piece of jewelry that The Queen was wearing is a very special one. It was given to her by the Dowager Countess of Onslow at her wedding in 1947. As stated by The Daily Mail, she wore it a few days before what would have been Prince Philip's 100th birthday, as well as to a church service in 2019. Before that, she donned it at the Sandringham Women's Institute in 2012.
The brooch is in the shape of a monarch, and behind her, there was a photograph of the late Prince Philip surrounded by monarch butterflies. He was the first president of the World Wildlife Fund UK and the international president of WWF. Within this role, he traveled to Mexico, in order to visit a threatened habitat of the butterflies in 1988.
So Queen Elizabeth received this butterfly brooch in 1947, Prince Philip was photographed with butterflies in 1988, and she wore this gift while talking about how important it is to protect this planet on which we all live.