Royal Expert Reveals The Relationship Advice The Queen Once Shared With Prince William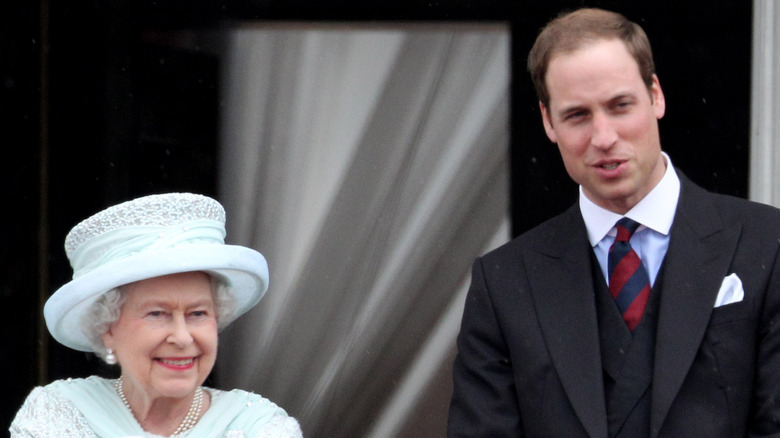 Oli Scarff/Getty Images
Prince William and Kate Middleton may seem like the perfect royal couple. However, the pair haven't been without their ups and downs over the years. After dating for a few years the couple hit a snap in 2007 when the pair reportedly endured a brief split. The Mirror reports that a former co-worker of Kate's noticed that the breakup took place during a tense phone call during work hours. "Around the middle of the day, she was pacing the car park outside the office on her mobile," the insider said. "A few people noticed because it's a pretty unusual thing to do. She'd deliberately gone outside to take the call because she didn't want to be overheard. Kate was walking up and down and looking upset as if she was having an argument. But she didn't cry. Word went round that it was William and they were having problems," the source continued.
After Kate ended the heartbreaking phone call she reportedly took the rest of the day off, which is totally relatable and understandable for anyone who's ever gone through a bad breakup. "We didn't think anything about it at the time. But looking back, the call was definitely a girlfriend-boyfriend tiff," the source explained.
Royal expert Robert Lacey revealed in his book that William and Kate were apart for about ten weeks before the prince realized he missed Kate, and the two repaired their relationship. Meanwhile, during the tense time, William was reportedly getting advice from his family.
How Prince William involved his family in his split with Kate Middleton
Wpa Pool/Getty Images
According to Express, Prince William wrestled with the idea of ending things with Kate Middleton during their brief split back in 2007. The future king was reportedly so torn about calling it quits with Kate that he turned to none other than his father Prince Charles and his beloved grandmother Queen Elizabeth II for advice about his love life. Royal expert Katie Nicholl admitted that William turned to his family during the difficult time. "William had been having second thoughts and sat down with his father and his grandmother to have a frank discussion about his future with Kate. Both advised him not to hurry into anything." However, the queen was said to be "disappointed" about the pair's split.
Years later in 2010, William and Kate opened up about the breakup. "I wouldn't believe everything you read in the paper but in that particular instance we did split up for a bit. We were both very young, it was at university, we were sort of both finding ourselves as such and being different characters and stuff. It was very much trying to find our own way and we were growing up, and so it was just sort of a bit of space and a bit of things like that and it worked out for the better." For her part, Kate confessed that the split made her a "stronger person."
The two have now been married for ten years and share three children together.