Kristen Stewart Shares Happy Relationship News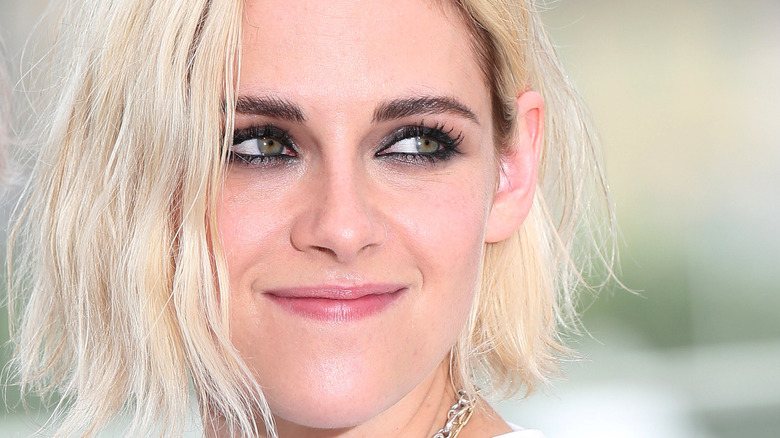 BAKOUNINE/Shutterstock
"Twilight" fans will forever know Kristen Stewart as Bella Swan, but she has proven herself to be both a great actress and an example of LGBTQ representation in film. However, it seems the actress felt pressured to come out publicly (via Cinema Blend).
Stewart shared that she began dating women when she was 21 years old and felt pressured to talk about it publicly. She told InStyle, "The first time I ever dated a girl, I was immediately being asked if I was a lesbian. And it's like, 'God, I'm 21 years old.' I felt like maybe there were things that have hurt people I've been with. Not because I felt ashamed of being openly gay but because I didn't like giving myself to the public, in a way. It felt like such thievery."
Now that some time has passed since she originally felt pressured to share her sexuality with the world, Stewart has settled in nicely to her role as an LGBTQ+ icon. She has been dating her girlfriend for two years and recently shared some exciting relationship news.
Kristen Stewart is engaged
When Stewart began dating her then girlfriend, screenwriter Dylan Meyer, she knew quickly they were in it for the long hall. According to Harper's Bazaar, Stewart gave an interview on the "Howard Stern Show" where she gushed about how excited she was to propose back in 2019.
"Yeah, I want to be, like, somewhat reasonable about it, but I think good things happen fast," the actress shared on the show after only a few months of dating Meyer. She knew she would soon be popping the question.
Well, "Twilight" fans, it has happened. Stewart is officially off the market. According to E!, the couple are engaged. Again on the "Howard Stern Show," she told the story.
"We're marrying, we're totally gonna do it," gushed Stewart. "I wanted to be proposed to, so I think I very distinctly carved out what I wanted and she nailed it. We're marrying, it's happening."
It sounds like Stewart got the proposal of her dreams. With how quick their relationship unfolded, it wouldn't be surprising if they quickly walked down the aisle!