Why Meghan And Harry's Bold Climate Change Pledge Is Raising Eyebrows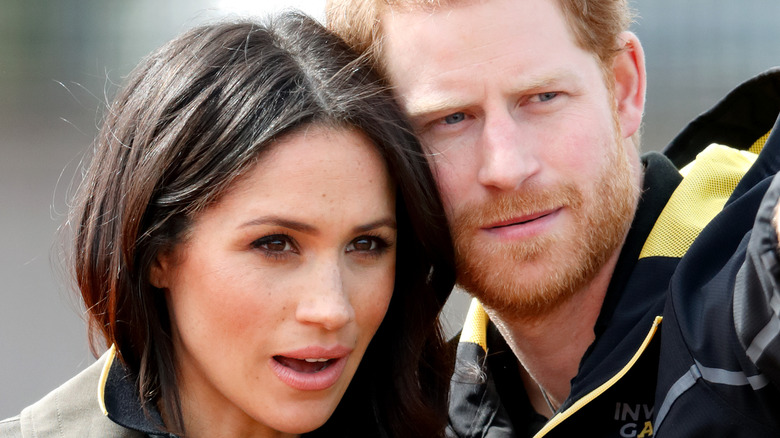 Max Mumby/indigo/Getty Images
The 2021 United Nations Climate Change Conference (aka COP26) is underway in Glasgow, Scotland, where a wealth of world leaders have convened to address the climate crisis and how best to save our planet from permanent devastation. Prince Charles delivered strong words about combating climate change (via CNBC), and Kate Middleton made a statement of her own by wearing a dress by Eponine, a London boutique that uses recycled materials in their clothing (via Vogue). Members of the royal family didn't come to play with their COP26 appearances, and Meghan and Harry were no different. While they did not attend in person, the two released a joint statement from their Archewell company.
The current goal of the world's leaders, and hence the reason for the summit, is to make history by combatting one of the biggest threats humanity has ever faced. Meghan and Harry's contribution? According to The Daily Mail, the power couple vowed to go net zero by 2030. 
"As global leaders convene for COP26 to commit to solutions for our climate crisis, all of us at Archewell, led by The Duke and Duchess of Sussex, share our pledge towards a more sustainable future by becoming net zero by 2030," the Archewell statement read (via The Telegraph). "Achieving net zero carbon emissions means making a series of choices over time to make that footprint as small as possible, while compensating for any remaining emissions through high-quality carbon removal projects," the statement continued.
The ex-royals declared that they'd consult experts and change everything from their daily commutes to their eating habits and their "reliance on big industries." Still, some are skeptical.
Are Meghan and Harry setting the tone for future climate conversations?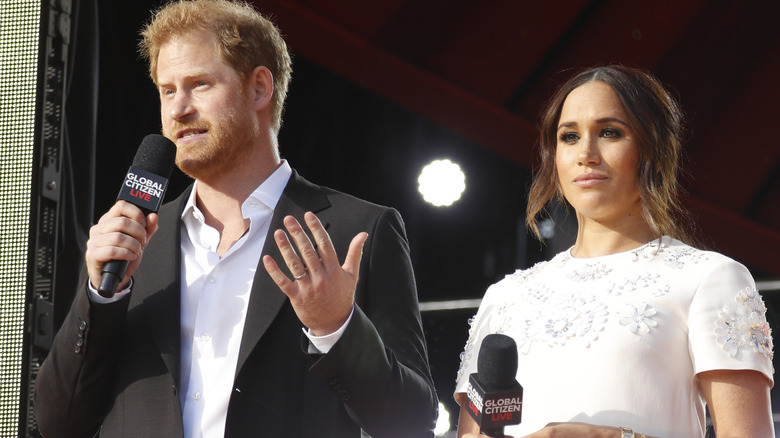 John Lamparski/Getty Images
Meghan Markle and Prince Harry's statement comes after other members of the royal family declared their own intentions to help fight the climate crisis. It also comes after Queen Elizabeth delivered a remote message to the COP26 summit in which she praised Charles and William for their efforts, notably excluding Harry from her lauding (via The Daily Mail). Perhaps this is petty on Her Majesty's part, or perhaps she believes that Meghan and Harry aren't doing as much to help as they could.
The Sussexes' statement also coincides with criticism by the British media for the couple's use of private jets (via Express). Private jets release a lot of greenhouse gases into the atmosphere and consume a lot of fuel, both of which negatively impact the environment. This has many claiming hypocrisy and raising their eyebrows at Meghan and Harry, but Express notes that the rest of the royal family isn't receiving this same judgment for their jet usage.
Ultimately, some people may be raising their eyebrows in a good way. Meghan and Harry's statement is certainly lofty and hard to achieve, but they're the only high-profile people associated with the royal family promising to go net zero. This places pressure on others to follow suit.
"Our co-founders, Prince Harry and Meghan, The Duke and Duchess of Sussex, have a long-standing commitment to the planet, both together and prior to their union, with global projects and partnerships dating back over a decade," part of Archewell's statement read (via The Daily Mail). It's clear, too, that they'll continue to help the planet however they can.