Katie Lowes Tells All About Her Time On Scandal - Exclusive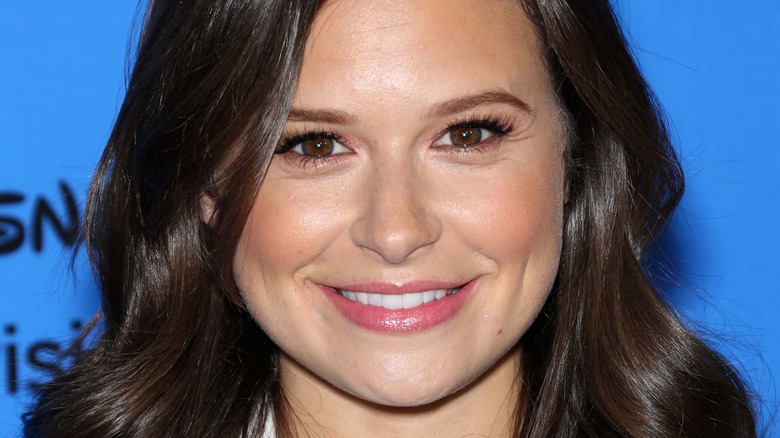 s_bukley/Shutterstock
Over the course of seven seasons, "Scandal" kept viewers on the edge of their seats as they watched Olivia Pope's life unfold on screen. When it was announced the show would end in 2018, per TVLine, fans freaked out, though the cast may have been even more upset by the news. "We love each other so much," Katie Lowes, who plays Quinn Perkins, told The List in an exclusive interview. "We call each other our 'Scandal' family," and all of these incredible actors even keep in touch to this very day.
While Lowes has since gone on to star in other successful projects, there's always been something about "Scandal" that has stuck with her. "Having Shonda Rhimes and Kerry Washington be our leaders for all the time I was on 'Scandal' was just the most exemplary, incredible, gracious, kind, supportive work environment ever," Lowes told us. She also spilled some of the most memorable moments from her time on the show.
The set of Scandal was an incredibly supportive environment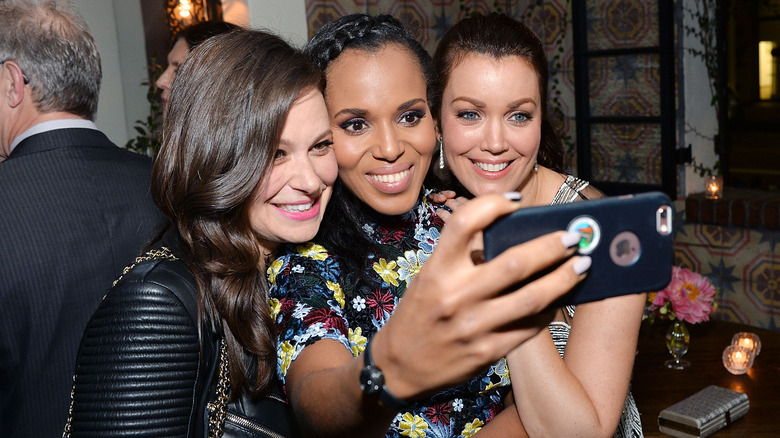 Stefanie Keenan/Getty Images
As "Scandal" was busy catapulting Katie Lowes' acting career, her life was changing in a lot more ways than one. A few weeks after her character Quinn became a mother, Lowes was also learning how to be a first time mom behind the scenes to her son Albee.
Becoming a mother in the middle of the series changed everything for Lowes, too. As soon she returned from her maternity leave, she was expected to learn a dance that she'd be performing on the show. Yet, just off-set, "my son was screaming," she reminisced to us. "He was like 12 weeks old, and I had to breastfeed him." Many mothers know how some work environments can make this situation even more difficult. However, showrunner Shonda Rhimes completely understood. "I felt so supported, and so taken care of, and everyone was so respectful of my needs and the identity shift," Lowes told us. She even fed her baby boy while simultaneously learning her character's dance moves. "It was an incredible place to work," the actor added.
Katie Lowes wasn't surprised when Scandal came to an end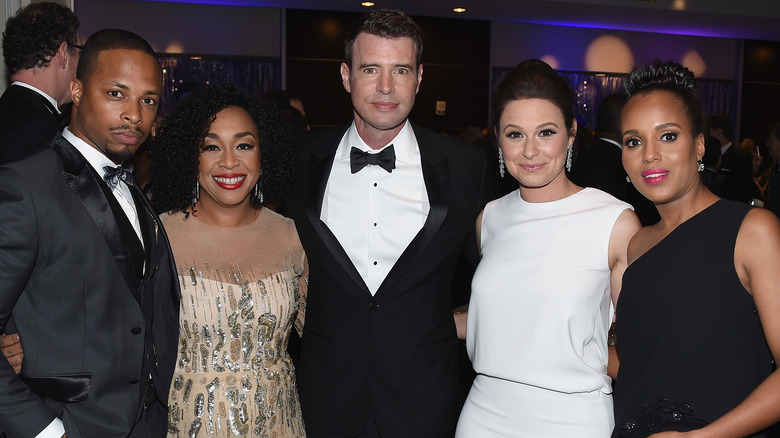 Nicholas Hunt/Getty Images
When it came time to shoot Season 7 of the show, Katie Lowes was told by Shonda Rhimes herself that the series would officially be ending. As incredible as the actor's time had been on set, "none of us were surprised," Lowes admitted. "I think when you're on a show for seven years, it's like, 'Wow, like how long is this going to happen?'" Any fan of Shonda Rhimes' work knows how long a show really can last, though. "Of course, 'Grey's Anatomy' has been on for a very long time, but we always knew that the shelf-life of 'Scandal' was not that of 'Grey's Anatomy,'" Lowes explained. "It's just a very different show." The political series had also lasted through two distinct presidencies — Barack Obama to Donald Trump — which Lowes said greatly impacted the storyline.
Today, Lowes continues to work with Rhimes on various projects. From her parenting podcast "Katie's Crib" to their upcoming Netflix series "Inventing Anna," there's a lot that Lowes has learned from Rhimes along the way, too. "I just feel so much like my job now going forward, moving into working with other places, is just carrying the things I learned, and the behavior and the example that was set for me in Shondaland," Lowes said — and it all started with "Scandal."
This month, you can catch Katie Lowes as she partners with La Quinta by Wyndham for a virtual "Thankful for Mom" meetup. The free event runs each week through November 17.