The Truth About Boyz II Men's Shawn Stockman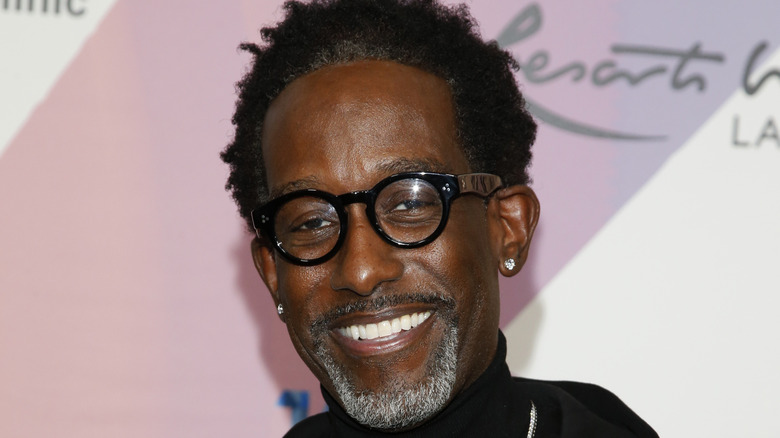 Gabe Ginsberg/Getty Images
Before the days of The Backstreet Boys, before the days of NSYNC, there was one boy band who ruled them all: Boyz II Men. The group was originally started in 1985 under the name Unique Attraction by classmates Nathan Morris and Marc Nelson, along with George Baldi, Jon Shoats, and Marguerite Walker, with Wayna Morris joining the group in 1987 (via The Sun). After some member shake ups and a name change, the four remaining members of Boyz II Men who would rise to international fame included Michael McCary, Nathan Morris, Wanya Morris, and Shawn Stockman. The current members of the band include Nathan Morris, Wanya Morris, and Shawn Stockman.
While it's clear that Boyz II Men have gone through a bunch of ups and downs throughout the band's career, they're still active in the music industry, and their dedicated fan base has been supporting them for over three decades. And with the announcement that the group will be joining Brett Young for CMT's "Crossroads Christmas," which airs on Wednesday, December 8, Boyz II Men fans can't wait to see their favorite group light up the stage with other artists like Gavin Degraw, Colbie Caillat, Darius Rucker, and more (via CMT).
What to know about Shawn Stockman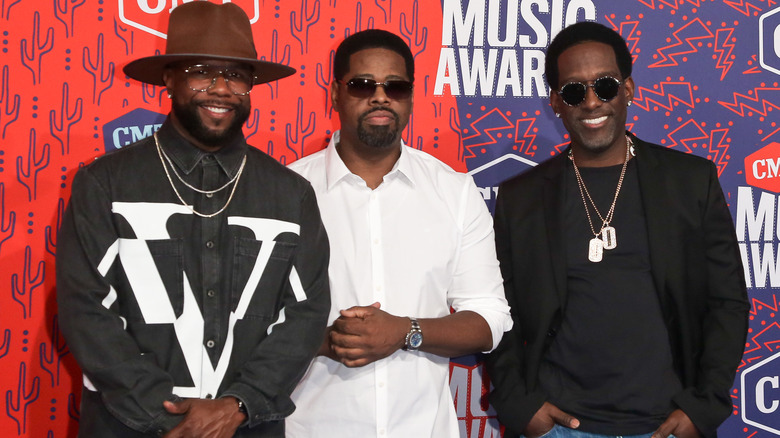 Debby Wong/Shutterstock
Although Shawn Stockman is still a part of Boyz II Men, he also has a solo career, and released his debut album, "Foreword," in April 2020. The album contains all of the songs from his 2018 EP, "Shawn," as well as a handful of new songs (via You Know I Got Soul). "This is just something that was for me, something personal that I wanted to try and do. And come out of my comfort zone," Stockman told 360 Degree Sound about his decision to release a solo album in an exclusive interview in August 2020. "I could just be in Boyz II Men for the rest of my life and be totally fine. I wanted to challenge myself. As an artist, you want to do things that are hard or uncomfortable because that's what keeps you sharp and that's what keeps the music exciting."
In addition to his solo career, Stockman also served as a judge on NBC's "The Sing-Off" in 2011, joining Ben Folds, Sara Bareillas, and host Nick Lachey to find the best a capella singing group in the country. "What I love is that I get to sit with good friends who are very knowledgeable about the business for two or three hours and talk about music — and get paid," he said at the time (via BET).
Shawn Stockman is married and has three kids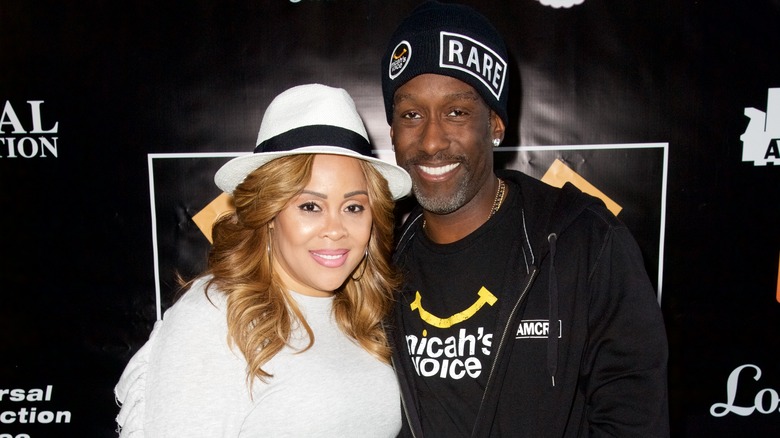 Earl Gibson Iii/Getty Images
Per CheatSheet, Shawn Stockman first met his wife, Sharonda Jones, in 1993. The pair exchanged vows and officially tied the knot in 2001, and have been married ever since. Although they've been husband and wife for two decades, the couple hit a bumpy road in their relationship when Stockman admitted that he had cheated on his longtime partner, taking to social media to apologize for the hurt he had caused his family (via Essence). Stockman and Jones seemingly worked out their differences, though, as they are still together today.
Stockman and Jones have three children together: in 2003, Jones gave birth to twins Micah and Ty, and the couple also has a younger daughter, Brooklyn (via People). A year after the twins were born, Stockman says that he and his wife began noticing a change in Micah's behavior, and about a year later, he was diagnosed with Autism. And while Micah's diagnosis was unexpected and shocking for the couple, it inspired them to start Micah's Voice, a non-profit dedicated to supporting families and helping them navigate their child's diagnosis.
"Just from helping our son, we felt like, hey, let's support other people," Shawn said (via Everyday Health). "Let's give people a blueprint of all the things they need to do based on the mistakes we made. Let's put it on the site. Let's give them the information so they don't have to walk through the same mess we had to walk through."