Why Doritos' Day Of The Dead Commercial Has People Emotional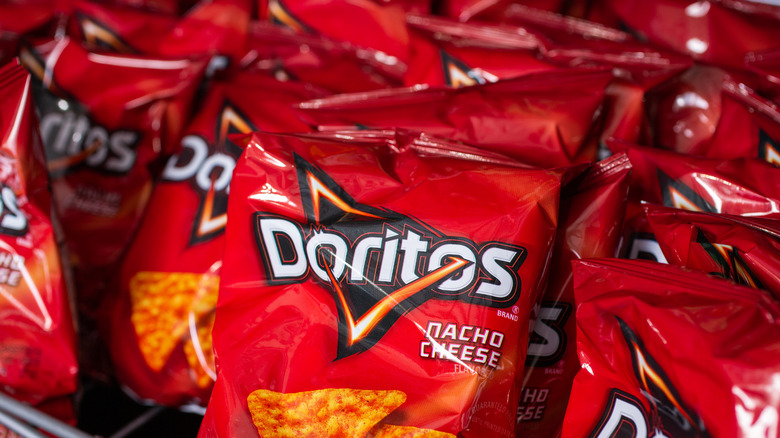 TonelsonProductions/Shutterstock
Día de los Muertos, or Day of the Dead, takes place on November 1 and 2, and to celebrate this year, Doritos released a new commercial that has people tearing up.
In it, an animated family walks up to an altar (or ofrenda) and leaves a bowl of Doritos. At that moment, their late family member, Uncle Alberto appears, but he is not alone. "He's Mario, my partner," he says, as the two spirits embrace. The message of the video, which already has over 15 million views on YouTube, is that "it's never late to be who you are" (via advocate.com).
This is not the first time this chip brand has shown its pride. A few years ago, it released rainbow chips, as seen in Time Magazine, and in January, an ad titled "El Mejor Regalo" (or "The Best Gift") aired that featured a father searching for a way to discuss sexuality with his son ... his son who was in a relationship with a man. Pride's website reported this was part of Doritos Mexico's #OrgulloTodoElAño (or #PrideAllYear) campaign.
Doritos Mexico celebrates its 'commitment to the LGBTQ+ community every day,' with new Day of the Dead commercial
This new Day of the Dead / Doritos commercial is also part of #ProudAllYear. "In Mexico, the Day of the Dead is a celebration of life. It's a moment to share our respect, love, and unity for all the people we cherish, even if they are gone. And it's an opportunity for Doritos Mexico to celebrate love and our commitment to the LGBTQ+ community every day. With the commercial ... we want to say that it's never too late to share your true self, and when you are ready, we will support you," a company representative told The Advocate.
Many turned to social media to share how the ad impacted them. "Not me getting emotional over a Doritos commercial," read one tweet. "Ok the new Doritos commercial is amazing ... love is love it is never too late to be yourself," wrote another on Twitter. "#love #love #love this! As a Mexican and gay man this Doritos commercial really hit home," was written out in one of the tweets.
Doritos' campaign exists to shine a light on and support the LGBTQ+ community, and based on the reactions, it seems it is doing just that and more.