Prince Harry Won't Wear An Army Uniform When Giving Medals To Armed Forces. Here's Why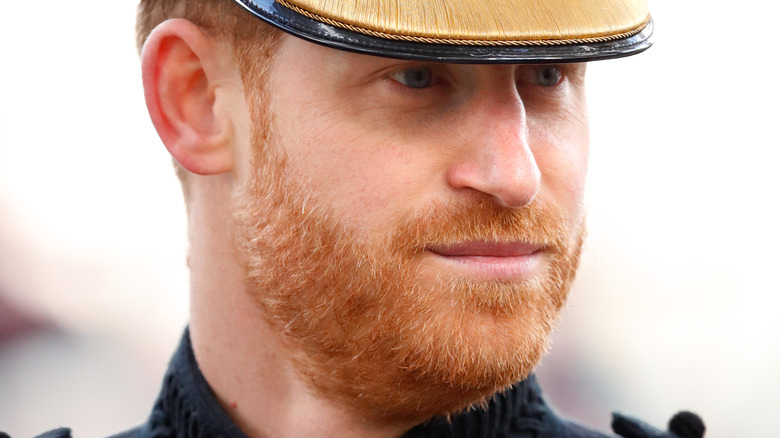 Max Mumby/indigo/Getty Images
Prince Harry and Meghan Markle's exit from the royal family in early 2020 shocked the world. While Meghan exited after only two years in the firm, Harry gave up a lifetime of service and suffered the consequences of his choice. Following the announcement of Meghan and Harry's royal exit, it was revealed that the Duke of Sussex would be stripped of his military titles, per The Mirror. Harry, who served two tours in Afghanistan, lost his titles of Captain General Royal Marines, Honorary Air Commandant of RAF Honington in Suffolk, and Commodore-in-Chief Small Ships and Diving, Royal Naval Command.
Sources also told The Mirror that losing his royal titles may have been the thing that pushed Harry to sit down for his now-infamous interview with Oprah Winfrey, where he and Meghan criticized the royal lifestyle. "Harry and Meghan were very cross before Oprah because the final Megxit separation had just been signed off which included Harry not keeping military roles," an insider said. "That was what made him so angry. He's very emotional and his military roles were very important to him given that he served."
Over a year later, Harry is still dealing with the aftermath of his royal exit.
Prince Harry will pin his medals to his suit for a military event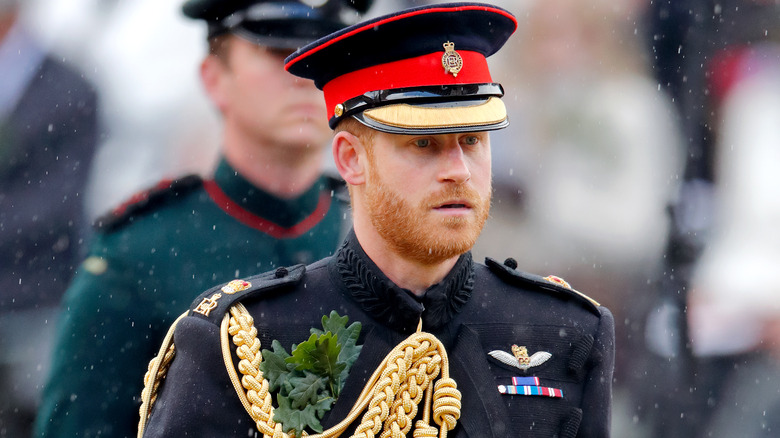 Max Mumby/indigo/Getty Images
According to Express, Prince Harry is set to hand out awards at The Salute to Freedom gala at the Intrepid Museum on November 10. The Duke of Sussex will honor members of the military, but he will be unable to wear his own military uniform while doing so. Instead, Harry will be forced to wear plain clothes, as he is no longer allowed to wear his uniform because his military titles were stripped following his royal exit. The event will honor members of the U.S. military.
"We are so grateful to Prince Harry, The Duke of Sussex, for honoring and amplifying the stories of these heroes and helping to raise awareness for mental health support for our men and women in uniform," Susan Marenoff-Zausner, president of the Intrepid Museum, said in a statement provided to Express.
While Harry will show up to the event wearing a suit, there is a bit of a bright spot. The duke will be able to pin his medals to his suit to honor his own service in the armed forces.