The Real Reason Clarisonic Is Being Discontinued
Astrid Stawiarz/Getty Images
When reflecting on the past decade in beauty, a few iconic moments stand out. The beauty industry is constantly evolving, and new products are released on an almost daily basis. However, despite its ever-changing nature, some legendary products still manage to stand out and come to mind when you think about the 2010s. Trends have ranged from Urban Decay Naked palettes to Beauty Blenders — but Clarisonic tops the list, according to The Sunday Times. Launching all the way back in 2004, the iconic facial cleansing brush range was at the top of everyone's wish list in the early 2010s (per Fashionista).
The Clarisonic range included everything from face to pedicure brushes, but it's the facial cleansing device "Mia" range that quickly became a fan favorite. Every beauty lover owned one, and they were a must-have. That's why jaws dropped when Clarisonic's parent company L'Oreal announced that as of September 30th, 2020, Clarisonic would be discontinued and no longer sold, per CNN.
While countless beauty fans already own Clarisonic brushes, the panic surrounding the discontinuation is due to no longer being able to purchase replacement heads. The loss of Clarisonic marked the end of an era. While countless fans stocked up on their favorite Clarisonic staple, people couldn't help but question — why was it discontinued at all?
Clarisonic's decline was inevitable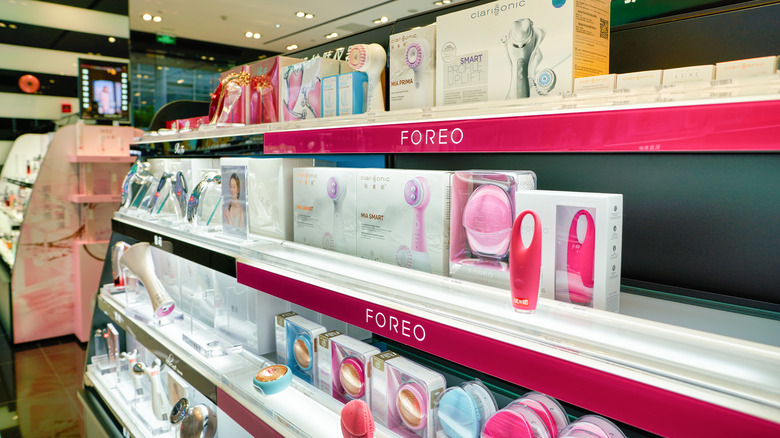 Sorbis/Shutterstock
L'Oreal claimed that the Clarisonic was discontinued due to the company wanting to focus on its other brands, according to CNN. But the reason fans will probably be fine is the same reason behind Clarisonic's demise.
When a unique product has the popularity and viral-factor that something like the Clarisonic did, that niche doesn't last very long. The truth is that the beauty industry is now packed full of dupes and copycat brands selling the exact same product at lower price points or with new twists. Brands like Foreo played a big role in deeming Clarisonic's existence unnecessary, as the gentler Foreo brush offered a solution to many existing Clarisonic concerns, according to Beauty Independent.
While the Clarisonic was very popular early on, the more skincare lovers educated themselves on the best skin practices, some people realized the brush was too harsh for their skin. Suddenly, dermatologists were urging people to stop using the brush, as it could eliminate the skin's protective barrier and do more harm than good, per The New York Times.
While many mourned the end of the Clarisonic era, it wasn't as huge a loss for the industry as fans might think, and customers can easily find more affordable replacements. And the reality is, everyone's skin might be better off for it.