Donald Trump Just Beat Joe Biden In A 2024 Election Poll. Here's What We Know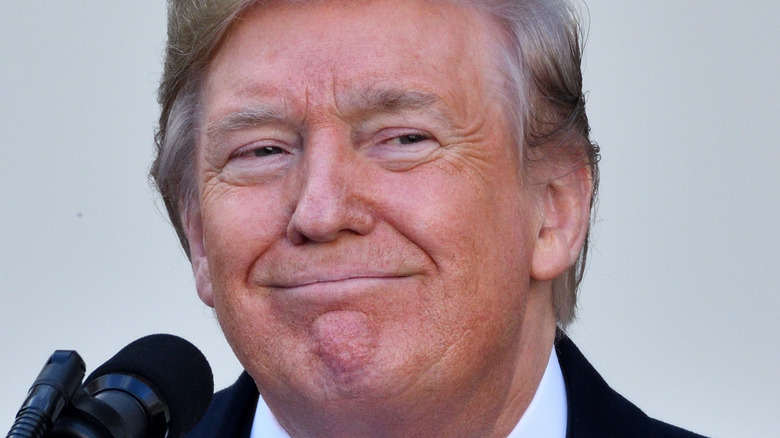 Evan El-Amin/Shutterstock
Despite having yet to announce a formal presidential run for re-election in 2024, Donald Trump has been busy gaining support through rallies and other speaking engagements. Numerous parties close to the former president have voiced their opinion that he will, in fact, be returning to the campaign trail and it appears that he has the backing of voters that he needs to potentially be successful. A recent poll suggests that he is currently a more popular candidate than President Joe Biden, so let's break down the numbers. 
A November 5 poll released by Emerson College found that Trump narrowly beat out Biden in voter backing, per Newsweek, although neither candidate had a majority. 45 percent of voters were in favor of Trump, as compared to Biden's close follow with 43 percent. Additionally, 11 percent of voters stated that they would rather vote for "someone else" and a single percent remains undecided. 
Emerson college conducted the poll between the dates of November 3 and 4, and also conducted a similar poll two months earlier. The September poll had Trump leading with just a single point and more voters were in support of both Trump and Biden at the time. While Trump has gained a larger margin over the past two months, the drop in overall support for the two candidates is telling. 
Will Donald Trump run in 2024?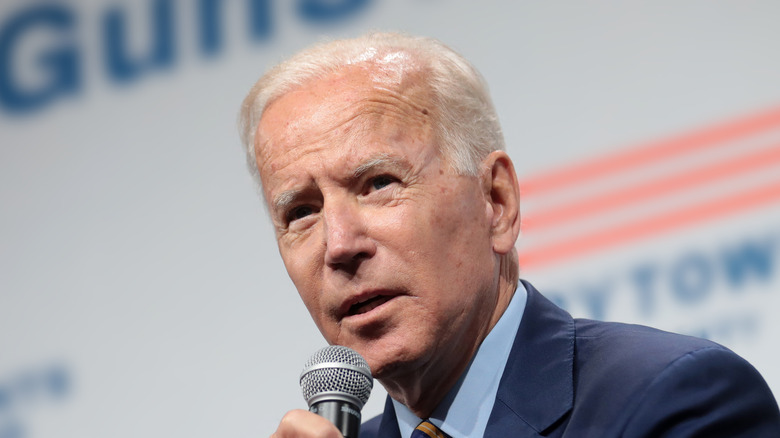 NumenaStudios/Shutterstock
It is no secret that Joe Biden's presidency has piqued Donald Trump's reported interest in running for president in 2024. Some close to Trump have stated that what Biden has done thus far is upping the ante for him. Speaking with CNN, David Gergen, political commentator and former White House communications director, stated that "the signs are that he is increasingly interested." 
Gergen went on to explain that Biden's approval rating following the withdrawal of American troops in Afghanistan was a big motivator and Trump "was really chomping at the bit" and "had to be talked out of it" at the time. "And now with Biden's approval rating sinking down into the low 40s and the economy still not straightening out and the pandemic still not over, that just makes Trump very very hungry."
Trump has not held back when sharing his disapproval for the way Biden is going about his time in the White House. Most recently, he blasted Biden in an email released by the New York Post for appearing to fall asleep during COP26 climate change conference. "Biden went to Europe saying Global Warming is his highest priority, and then promptly fell asleep, for all the world to see, at the Conference itself," he wrote. "Nobody that has true enthusiasm and belief in a subject will ever fall asleep!" With polls reporting that Trump's percentiles are growing increasingly higher than Biden's, this may be just the feedback that he needs to pull the trigger on another run.