The Actual Lip Colors Gillian Anderson Wore As Scully On The X-Files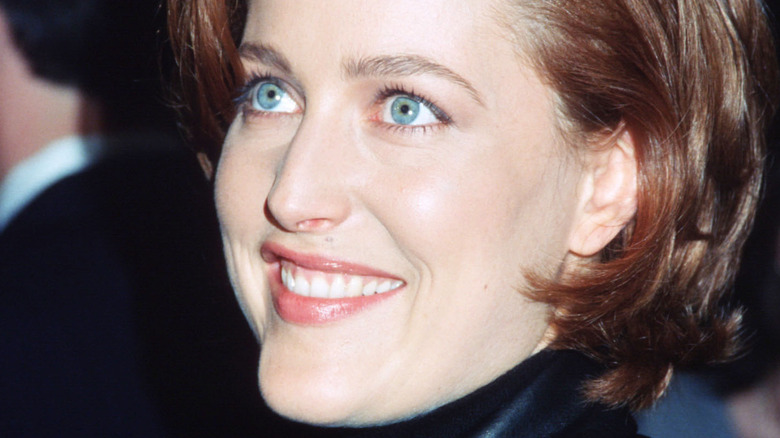 Barry King/Getty Images
We may receive a commission on purchases made from links.
When looking for the pinnacle of '90s fashion, Dana Scully from "The X-Files" probably isn't your first port of call. But subtly can go a long way, and she definitely knew how to rock a look like the best of them, from inadvertently matching the color of Mulder's shirt or tie to just embodying the power suit phenomenon of the era (via The Atlantic).
But when it comes to putting a Scully outfit together, it all comes down to one thing – the hair and makeup. Obviously, the FBI Agent's signature red bob is the first go-to, but Scully was also known to match that hairstyle with a variety of neutral lipsticks, with a dark red shade thrown in on occasion.
And trust us, matching the shades that Scully wore across the original seasons of "The X-Files" is an arduous task – especially since the majority of them are discontinued. But thankfully, there are some beauty sleuths out there that have managed to figure out which shades Scully wore, and how exactly you can replicate them.
For Scully, it was all about matching that hair with neutral tones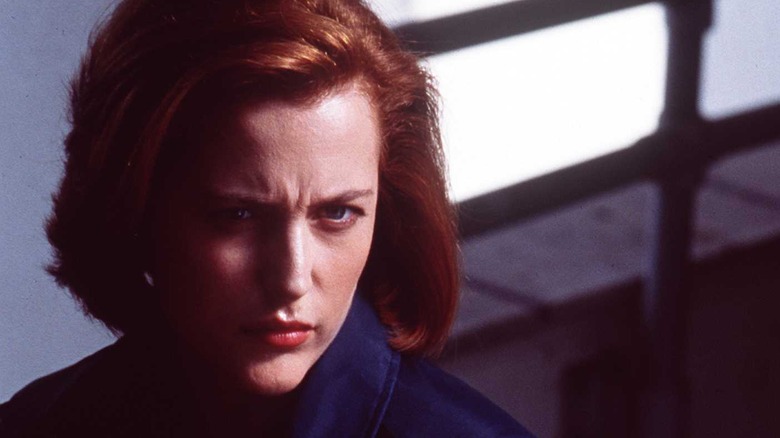 Fox Broadcasting/Getty Images
According to the blog Modern Grace Kelly, Laverne Basham did Gillian Anderson's makeup during her years on "The X-Files." And it seems that Basham's go to lipsticks were MAC's SHHH, Philosophy lip stains, and the Chanel Aqua Crayon Lip Liner in the color Cognac, according to TikToker Brittany Cale (via TikTok). As Cale points out, these have long been discontinued (sadly), but it's actually not as difficult to find alternatives as you may think.
What Cale seems to lean towards is shades in the peachy-pink hue, like MAC's Satin lipstick in the color Retro or Spice lip liner which was used in a lot of movies in the '90s including "Scream" and "American Beauty." There are plenty of other options if you're not fully sold on the MAC idea, though. Modern Grace Kelly suggests Rimmel's Kate Moss Nudes in #47, Revlon's Toast of New York, and Maybelline's Maple Kiss.
Essentially, when it comes to Scully's lip shade it's all about your neutral pinks and reds, with a little peach thrown in and even orange (via The Lipstick Duchess) for good measure.