Barack Obama Is Encouraging Young People To Stay Angry. Here's Why
Frederic Legrand - COMEO/Shutterstock
World leaders met in Glasgow for the 2021 United Nations Climate Change Conference (COP26) in an attempt to try to work together to combat climate change. In addition to U.S. President Joe Biden, Prime Minister Boris Johnson, Australian Prime Minister Scott Morrison and German Chancellor Angela Merkel, as well as Prince Charles, Prince William and Kate Middleton, former President Barack Obama is also in attendance. While he praised President Biden's dedication to helping the environment, Obama criticized the Trump administration and Republican party for hindering progress by "sitting on the sidelines" and spending "four years of active hostility toward climate science, adding that "time is running out ... We are nowhere near where we need to be" (per BBC).
Obama was also critical of China and Russia for choosing not to attend COP26. "It was particularly discouraging to see the leaders of two of the world's largest emitters, China and Russia, decline to even attend the proceedings, and their national plans reflect what appears to be a dangerous lack of urgency," he said (per NPR). In fact, the former president believes that when it comes to really making a change for the better, young people — like activist Greta Thunberg — need to get more involved in the fight.
Barack Obama believes young people can make a difference in the fight against climate change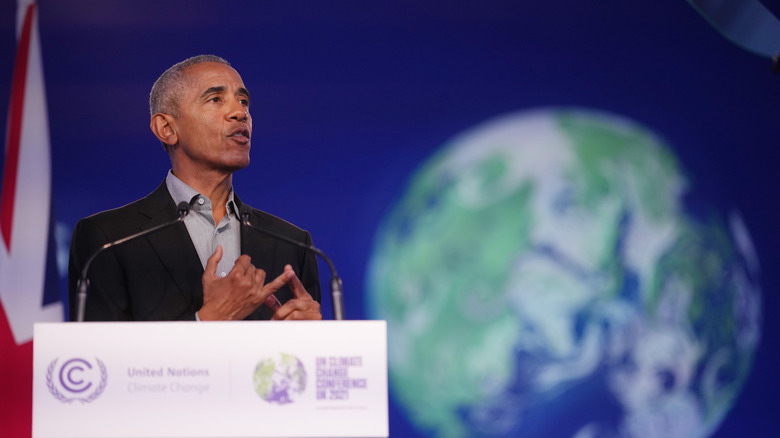 Christopher Furlong/Getty Images
When it comes to fighting climate change, former President Barack Obama wants young people to keep fighting. "To all the young people out there, as well as those who consider yourself young at heart, I want you to stay angry," he said at the 2021 United Nations Climate Change Conference (COP26), according to People. "I want you to stay frustrated. But challenge that anger and harness that frustration. Keep pushing harder and harder for more and more — because that is what is required to meet this challenge."
But while Obama specifically pointed to the work of Greta Thunberg as inspiration, the teenage activist is not a fan of the summit. "The COP has turned into a PR event, where leaders are giving beautiful speeches and announcing fancy commitments and targets, while behind the curtains governments of the Global North countries are still refusing to take any drastic climate action," she said (per CNBC).