Inside Greta Thunberg's Relationship With Barack Obama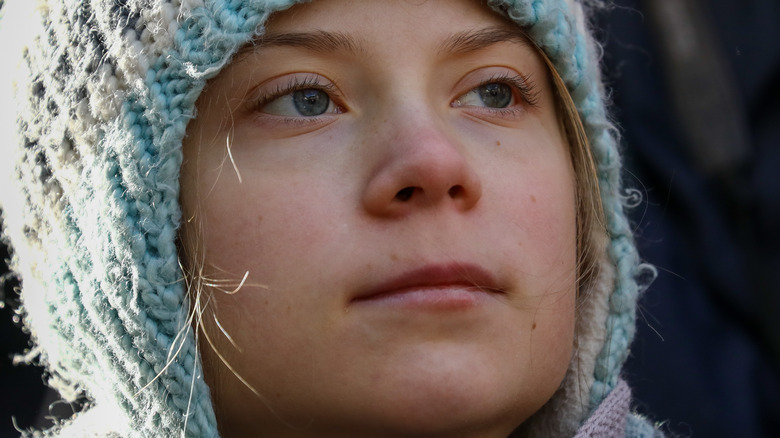 Bloomberg/Getty Images
In a new three-part docuseries, "Greta Thunberg: A Year to Change the World," environmental activist Greta Thunberg will visit areas across the world that are being disastrously affected by climate change (via RadioTimes). The documentary will also feature momentous meetings between Thunberg and some of the world's most influential voices in the fight against global warming, including David Attenborough.
Thunberg also met with former U.S. President Barack Obama during this time, and while it's not featured in the documentary the two formed an immeasurable connection over their shared interests in environmental concerns. But what is Greta Thunberg's relationship with Barack Obama like?
As BBC News reports, the two met in Washington DC in 2019 and spent their time talking about Thunberg's goals and how they could inspire young people across the world to make a change. The then 16-year-old Thunberg left quite the impression on Obama, who wrote in a tweet that she "is already one of our planet's greatest advocates." Per the Washington Post, Obama also told Thunberg "You and me, we're a team."
Michelle Obama is also a strong supporter of Greta Thunberg
While it's not clear what they'll be doing as a team, Thunberg was there to discuss her goals about the Fridays for Future school strikes she started in 2018. "That's the power of young people," Obama said in a press release. "Unafraid to believe that change is possible and willing to challenge conventional wisdom, Greta and her generation are making their voices heard, even at a young age."
The former first lady is also a keen supporter of the activist, especially when others put her down. In December 2019, Michelle Obama responded to comments issued by former U.S. President Donald Trump who described Thunberg as having "an anger management problem" and to "chill" in response to her being named Time Magazine's Person of the Year (via the Guardian).
"Don't let anyone dim your light," Michelle told Thunberg in a tweet. "Like the girls I've met in Vietnam and all over the world, you have so much to offer us all. Ignore the doubters and know that millions of people are cheering you on."