The Truth About Scott Disick And Travis Barker's Relationship Today
Presley Ann/Getty Images
Kourtney Kardashian and Travis Barker announced their engagement in October 2021, and since that time, fans have been wondering how Kardashian's ex-boyfriend, Scott Disick, has been dealing with the news. Kardashian and Disick previously dated for nearly 10 years and share three children together, sons Mason and Reign, and daughter Penelope, per Fox News. Although the pair officially called it quits in 2015, they have remained friendly co-parents and Disick is considered to be a member of the Kardashian family.
Following the news of Kardashian's engagement to the Blink-182 drummer, Disick was said to be feeling very upset. "Scott is going crazy," a source told Page Six at the time. "He's going to go off the deep end. It's really bad. It's about to get dark." Shortly before the engagement, sources told Us Weekly that Disick had become fed up with seeing Kardashian and Barker's PDA pics all over social media. "Scott's sick of seeing photos of them splashed everywhere. He hates Travis," the source said. "But what's really got him riled up is the effect Travis and Kourtney's relationship is having on his relationship with Kourtney."
Now, it seems that Disick is coming to terms with the reality of Kardashian's impending marriage to Barker.
Scott and Travis are cordial with each other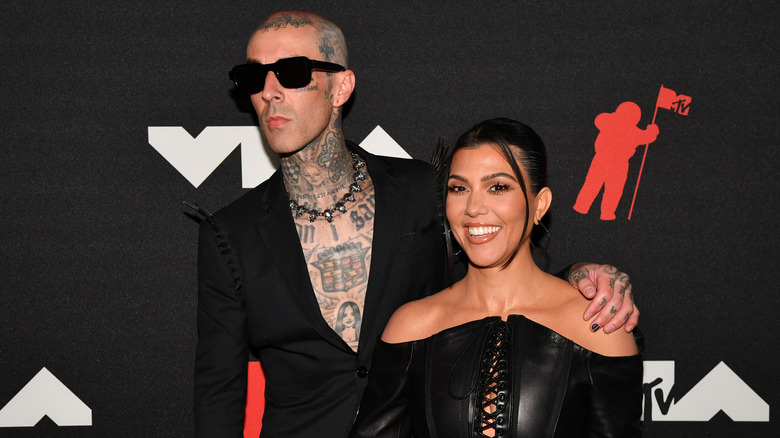 Jeff Kravitz/mtv Vmas 2021/Getty Images
According to E! News, Scott Disick is beginning to accept Kourtney Kardashian's relationship with Travis Barker, and the two men have even been present at the same family events. "Scott knows he can't escape [Travis] and Kourtney and will have to deal with seeing them and being around them. Scott was taking a break from seeing Kourtney and the family, but has signed on to their new show and had to be present," an insider told the publication.
"Scott and Travis are cordial. Travis always says hello to Scott and is very nice. He doesn't want any bad blood with Scott," the source added. "Scott tries to keep his distance [and] doesn't really know how to act" around Kourtney and Barker, the informant dished. "He knows it's something he will have to get over and it will come with time, but for now, it's definitely hard for him to see them together."
Meanwhile, another source claimed that Barker is over any kind of conflict in his life, and wants smooth relationships with both Disick and Kourtney's family. "Based on everything that's happened in his life, Travis doesn't feed into anyone's drama and wants to keep everything positive. He and Kourtney are focused on building a life together that will involve co-parenting and keeping their families happy," the insider revealed. 
As for Disick, Us Weekly reported that he's been gravitating toward Khloé Kardashian and Kris Jenner during family get-togethers. "The Kardashians will always be family to him," the insider said.