Is Melania Trump Itching To Get Back Into The Spotlight?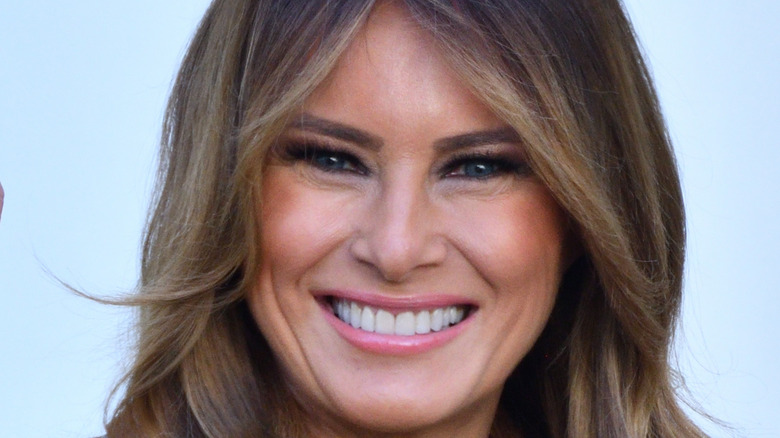 Evan El-Amin/Shutterstock
Between former president Donald Trump losing the 2020 election to Joe Biden and the drama that followed (you know, that whole insurrection thing), the Trump family has stayed out of the spotlight (per CNN). Melania Trump, who was often at the center of opinion and debate from the American public, used to live — if not thrive — in the spotlight. However, the events that followed her husband's failed campaign have caused her to keep to herself.
Now, it seems the former first lady is making her way back into the public eye. She stepped out with the former president to the World Series game between the Houston Astros and the Atlanta Braves (via Newsweek). The attention was not positive, as she was caught on video quickly turning her smile to a frown — a throwback to a number of viral moments that took place while she lived in the White House. The video in question has been viewed 4.3 million times as of publication. This was the couple's first public appearance since April. Now, it seems she and her husband may be ready to return to the spotlight once again.
Does Melania want to be in the public eye again?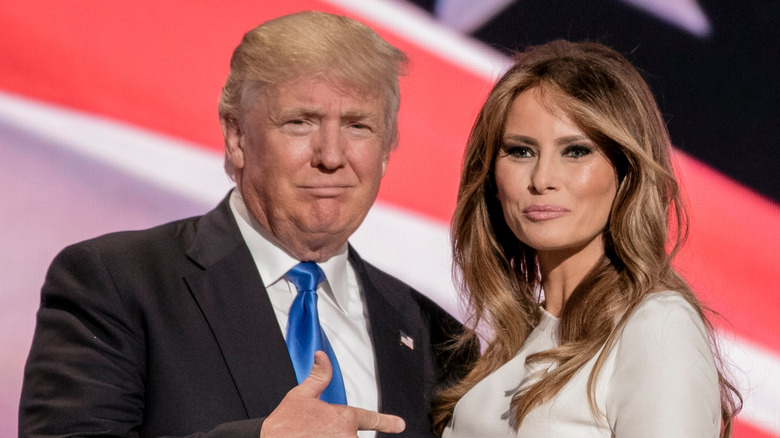 mark reinstein/Shutterstock
After a drought in their public appearances since April, both Donald and Melania Trump attended back-to-back galas (via the Daily Mail). These outings have many suspecting that Donald will be making another bid for president in 2024. However, an insider shared with the Daily Mail that his wife would rather not be the first lady again.
"Being First Lady again is not what she wants. For her, it was a chapter — and it's over, and that's that," the insider shared. "You're not going to see her at rallies or campaign events, even if he 'officially' says he's running again." If this insider is telling the truth, it seems Melania is done with life in the political public eye.
This insider is not the only one sharing this information. CNN's Kate Bennett shared, "Not unlike 2016, Melania Trump has no intention really of joining the campaign." She added, "I've spoken to people who said that she's not even really interested in being in the White House again, going through being first lady again." It seems like Melania doesn't want to be in the spotlight as much as many assumed she would.