It's A Safe Bet That Donald Trump Will Do This, According To His Former Chief Of Staff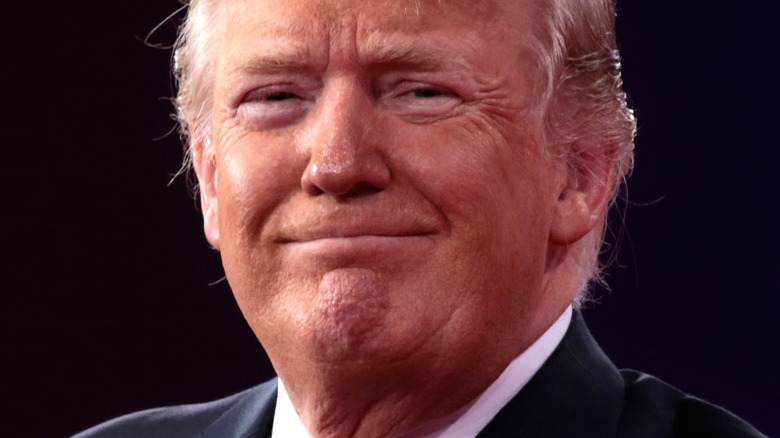 NumenaStudios/Shutterstock
There has been much speculation that Donald Trump will run for president in 2024, both from the public and those close to him. While the former POTUS has yet to launch his campaign, he hasn't done anything to quell the rumors either. And now, his former chief of staff has gone on the record, stating that he believes a Trump run in 2024 is a safe bet. In light of Trump's rallies and reported conversations with his past staff members, all signs seem to point toward him giving it another go. 
In an interview with SiriusXM's "The Wilkow Majority," Trump's former chief of staff Mark Meadows said that he would bet on Trump running again (per the Daily Mail). "If I were a betting, man ... I would tell you to loan me all your money," he said. "I would put all my money in, and I would bet that he's running again." 
Meadows went on to explain the source of his confidence, saying he spoke with Trump about the topic more than once. "I don't work for President Trump any longer, but we do talk multiple times a week," he said. "And I can tell you, he is not taking joy in it. In fact, he says that we've got to do something about it. He's giving advice. He's wishing that Democrats would take advice, but sadly, they want to go the other way." Meadows added, "He's in, and we will count on him running." 
Will Donald Trump run for president again in 2024?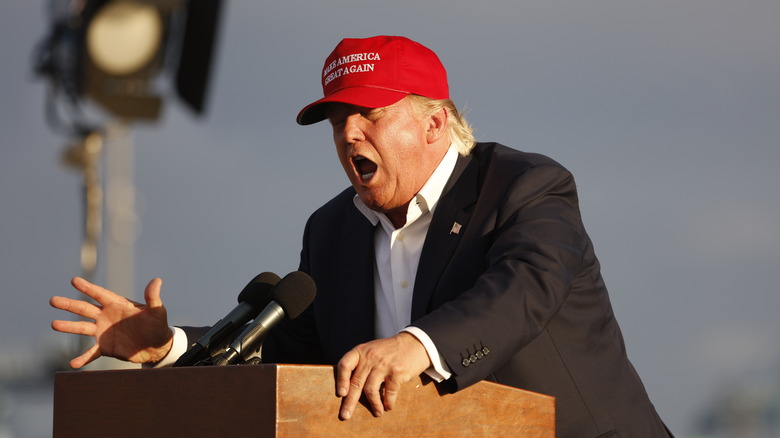 Joseph Sohm/Shutterstock
Donald Trump has yet to respond to comments that another presidential run is eminent, but he does have a plan. Speaking with Fox News' Sean Hannity in June, Trump said "yes" without hesitation when asked if he'd decided what to do in 2024. And while the yes didn't include any information on which way he was leaning, he did elaborate some, and his words closely echoed what Mark Meadows said in his podcast interview. "It's not that I want to," Trump said. "The country needs it. We have to take care of this country. It isn't fun, fighting constantly, fighting always" (per Newsweek).
While Trump's "will he, won't he" approach to the 2024 election could be a bit irritating to those wanting to know if he'll actually un, there may be a powerful reason why he keeps dangling that carrot. An unnamed source who once served on the Republican National Committee told Rolling Stone that teasing a campaign as he has allows the former president to raise funds via his political action committee (PAC) without being held to the tight fundraising restrictions of a true campaign. The source also added that Trump's noncommittal approach to campaigning makes it difficult for other potential candidates to raise support for runs of their own. 
So long as Trump allows others to share his intentions for 2024, he can gauge his support and keep the funds rolling in. Only time will tell when he'll decide to officially comment for himself.