The Real Reason 1000-Lb Sisters Season 3 Trailer Has Fans Riled Up
TLC
Viewers of TLC's reality shows tune in by the millions to watch their most memorable stars. Always entertaining and sometimes heartbreaking, these ordinary people in extraordinary circumstances develop loyal followings. Among them are Tammy Slaton and Amy Slaton Halterman, otherwise known as the "1000-lb Sisters." For two seasons, the Kentucky sisters have offered the public a look at their family dynamics, milestones, challenges, and — most of all — their struggles with weight loss. 
Through lifestyle changes, Halterman was able to lose enough weight to qualify for bariatric surgery, and the second season saw her drop more than 100 pounds as a result (via Showbiz Cheat Sheet). She also achieved a long-time dream when she became pregnant; her son, Gage, is nearly a year old now. Slaton, however, has had a tougher time of it. In addition to her In the finale of Season 2, she visited the doctor only to find out that she had gained more weight. It was then that she admitted that she had an unhealthy relationship with food. 
Tammy Slaton is still dependent on her family
The network has released a preview (seen here on TLC) of "1000-lb Sisters" Season 3, which premieres November 15, 2021, at 10:00 p.m. Right away, it's clear that Tammy Slaton is no closer to her health goals than she was months ago — and her family is less than pleased. Unable to live independently, she rooms with sister Tammy Halterman; she remains on portable oxygen and uses a wheelchair to get around. She's also seen refusing to interrupt the filming of a YouTube segment long enough to take her medicine. Halterman comments in another clip, "I wasn't ready for a baby and a 35-year-old baby,"
Slaton's love life is as complicated as ever. Her previous boyfriend Jerry — who was married while they were dating, per The Sun — broke up with her at the end of Season 2. The new season finds her with a new guy, Philip, but her brother Chris finds social media evidence that Philip may actually be a fetishist who likes her only for her size. Confronted with the evidence, Slaton cries, "Why can't I just be f***ing happy for once?" 
The clip ends with the news that Halterman and her husband are moving to a new home, and that Slaton may not be invited to come along. "I told her that when I had my son, everything's going to be about him," she says. "But Tammy's going backwards. It's like the Titanic slowly sinking, and there's only so much people can take from her."
Fans are frustrated over the reality star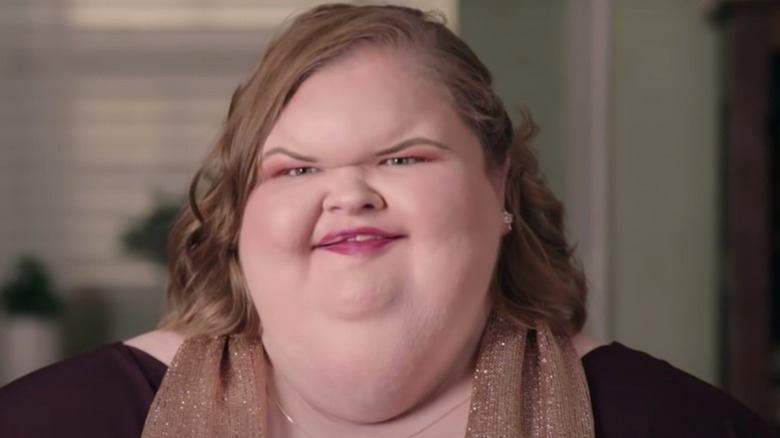 TLC
The new season of "1000-lb Sisters" also reveals that Tammy Slaton had a stint in rehab for her food addiction (as seen here in another preview clip). Still, she appears to be no more motivated to lose weight than she was in the previous two season, and fans are getting just as fed up as her family is. Comments on TLC's Instagram posts about the show include: "Please just have the show about Amy and her brother ... Tammy needs to go ... I don't want to watch someone eat themselves to death." Another follower noted Tammy's attitude toward sister Amy; at one point in the preview, Slaton keeps calling her "stupid." Said the writer, "I honestly have started to dislike Tammy so much. [She's] extremely rude and it's no longer funny, she seems very hateful towards Amy almost all the time."
On Slaton's own Insta feed, she recently posted a series of photos that had fans shaking their heads even harder: Despite being on oxygen, she vapes. "As a future Respiratory Therapist, I am shocked that you'd be vaping or smoking at all while you're on oxygen! That is EXTREMELY dangerous!" wrote a shocked follower.
Many other "Sisters" aficionados just want the star to take better care of herself. Among the many well wishes Slaton has received is this one: "Don't understand why you don't take your health more serious ... You seem like a great person with a sweet and warm personality! We want you around for a long time. Please get healthy."