Why Meghan Markle Wants Instagram To Add This Surprising New Feature
Wpa Pool/Getty Images
Meghan Markle wants Instagram to add a surprising new feature.
Attending The New York Times' DealBook conference on Tuesday, Nov. 9, the Duchess of Sussex sat down for a conversation about the downsides of social media with DealBook's editor at large, Andrew Ross Sorkin, during which she claimed that there are "strong ways to make strong changes on social media platforms and with the media in general." However, she added that "people have to be brave enough" to actually go ahead and make those changes (via Insider).
Markle's recent comments about the negative side of social media should come as no surprise, as they arrive less than a year after The Times reported that she and her husband Prince Harry had quit social media. At the time, the publication claimed that the couple were "very unlikely" to return to social media in a personal capacity, revealing that the Duke and Duchess of Sussex had become overwhelmed by the "hate" they came across on social media.
Speaking at the DealBook conference in November 2021, Markle also shared her ideas as to how platforms including Instagram could become a much more positive outlet. 
Meghan Markle shared a surprising idea about Instagram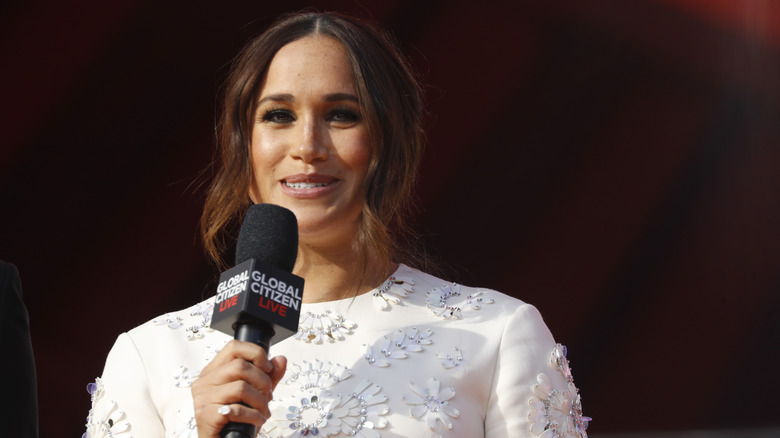 John Lamparski/Getty Images
During her conversation with Sorkin, Markle floated the idea of introducing a dislike button on social media platforms such as Instagram, claiming that it could help to reduce the number of negative comments. "If you look at Instagram, for example, there's a like button or there's comments. So you have to, if you disagree with it, comment in a really vitriolic way," the Duchess said, adding, "As opposed to, if there was a dislike button, wouldn't that hugely shift what you were putting out there? Because you could just like it or dislike it" (via Insider). 
At The New York Times' DealBook conference, Markle went on to claim that with the current version of Instagram, users either have to like a post or "say something negative." She concluded, "It's just adding to this really unfortunate cycle that I think is having a ripple effect on women across the board."
This isn't the first time the Duchess of Sussex has spoken out against social media. Speaking at Fortune's Most Powerful Women Next Gen Summit in Oct. 2020, Markle revealed that she had "not been on social media for a very long time" for her "own self-preservation." 
She added, "I made a personal choice to not have any account, so I don't know what's out there, and in many ways that's helpful for me."