Did Prince Harry Really Make This Prediction About The Capitol Riot?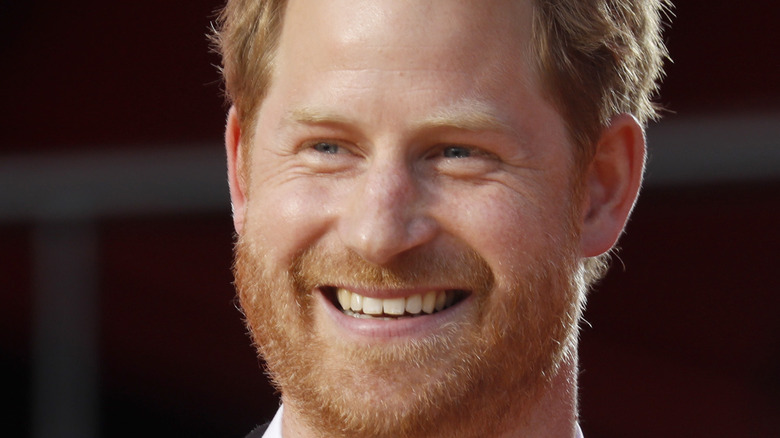 John Lamparski/Getty Images
The British royal family hasn't had much to do with U.S. politics — the two nations separated for a reason, after all — but Prince Harry is becoming increasingly active in the American political scene now that he lives stateside. While some say Prince Harry isn't really happy in California, his work for the environment and other socio-political causes has shown his unabashed dedication to the world and its peoples. Stateside, Harry and Meghan's recent trip to New York saw them attend and speak at Global Citizen Live, where they vouched for the environment and social equality, missions they'd speak about once more via a letter from their Archewell company at the recent Glasgow-based COP26 summit (via The Independent.)
Now, Harry has revealed a further connection to U.S. politics. Ten months have passed since rioters stormed the U.S. Capitol building, and its aftermath continues to unfurl across the nation. Most recently, Donald Trump White House officials such as Stephen Miller and Kayleigh McEnany have been subpoenaed as investigations into the January 6 riot remain ongoing (via CNBC). The new twist? The Duke of Sussex anticipated the riot, and he acted on his hunch.
Prince Harry wants to use his platform to fight digital misinformation
Sebastian Portillo/Shutterstock
The January 6 riot at the Capitol is a defining moment in recent history. Everyone remembers where they were when the news broke, and Prince Harry is no different. According to ITV, the Duke of Sussex warned Twitter not only about an impending coup but also that their platform was allowing misinformation to spread, directly leading to an upcoming attack. Harry talked with the platform on January 5, just one day before the riot was staged.
"Jack and I were emailing each other prior to January 6 where I warned him that his platform was allowing a coup to be staged," Harry said on Wired's The Internet Lie Machine panel on January 5 (via NBC News). Jack in this case is Jack Dorsey, the CEO and co-founder of Twitter, who didn't shut down Donald Trump's Twitter account until after the riot. "That email was sent the day before, then it happened, and I haven't heard from him since," Harry continued.
Harry's stance on Twitter isn't a new one. Folks have clamored for years against its breeding of misinformation, which can reach millions of users who believe these falsities because they don't know otherwise. These issues became paramount during the 2016 and 2020 presidential elections, and while Twitter took action post-riot, Harry's voice wasn't heard in time (via the Washington Post).