Why Liz Cheney Has Harsh Words For Republicans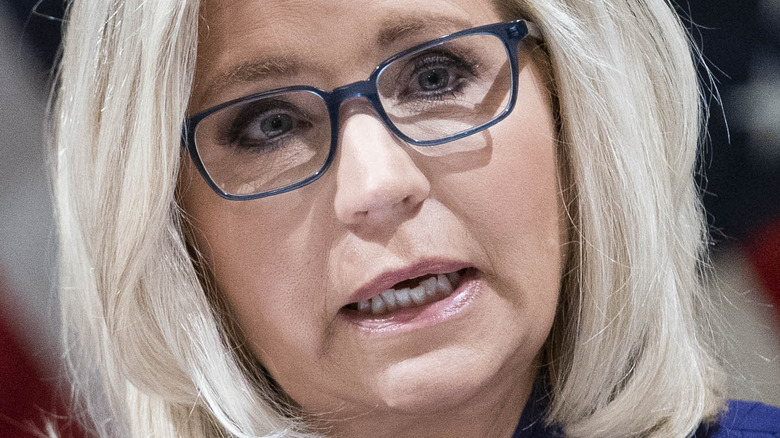 Bloomberg/Getty Images
There is no backing down in the quest for truth for Wyoming's GOP representative Liz Cheney, who, during a November 9 keynote address in New Hampshire, underscored why there was a need to support the House of Representative's January 6 committee and the work that it is doing. "Political leaders who sit silent in the face of these false and dangerous claims are aiding the former President who is at war with the rule of law, and the Constitution. When our constitutional order is threatened, as it is now, rising above partisanship is not simply an aspiration. It is an obligation," Cheney said (via CNN).
"We are also confronting a domestic threat that we have never faced before; a former president who's attempting to unravel the foundations of our Constitutional Republic, aided by political leaders who have made themselves willing hostages to this dangerous & irrational man," Cheney added, via CSPAN.
While Cheney remains a policy conservative, she made it clear that she knew where her loyalties were. "I love my party. I love its history. I love its principles. But I love my country more," she said, adding that "We need a Republican Party that is led by people who remember that the peaceful transfer of power is sacred. We need Republican leaders who remember that fidelity to the Constitution, fidelity to the rule of law — those are the most conservative of conservative principles."
A judge ruled against Trump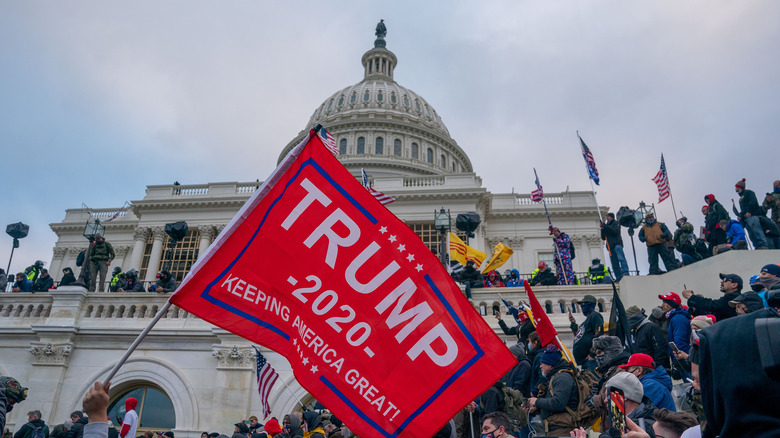 Thomas Hengge/Shutterstock
Cheney's speech came on the eve of a judge's November 9 decision to give the January 6 committee access to the Trump administration's communications records from around the time the violent insurrection took place, per CBS News. This is important to the group because even to this day, former President Donald Trump continues to make unsubstantiated claims about election fraud. 
While the records are scheduled to be sent to Congress on November 12, the former president's attorneys are appealing the ruling, because Trump claims his records are protected by executive privilege and should be subject to confidentiality. But the committee wants the records to help understand what happened in the lead-up to the riots.
In her ruling, Judge Tanya Chutkan wrote (via CBS News) "At bottom ... this is a dispute between a former and incumbent President. And the Supreme Court has already made clear that in such circumstances, the incumbent's view is accorded greater weight." She also reminded Trump's lawyers that "presidents are not kings, and Plaintiff is not President." In her opinion, releasing the documents is aligned with the public interest.
The appeal from Trump's lawyers needs to be heard before November 12.
Social media sent both appreciation and criticism Liz Cheney's way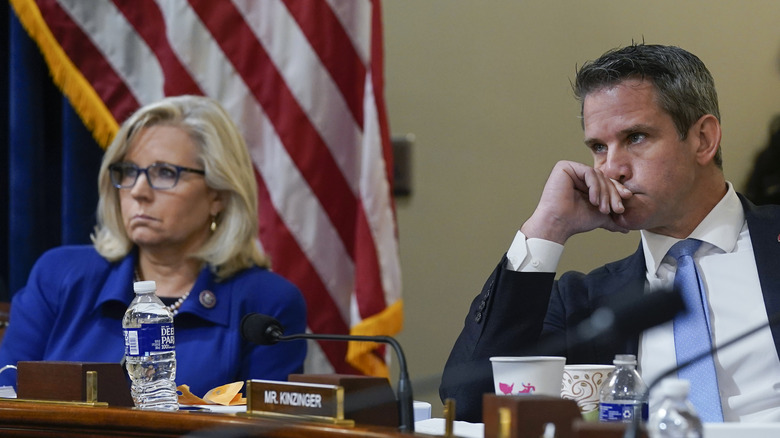 Pool/Getty Images
Liz Cheney's speech is resonating with a segment of social media who may not see eye to eye with the lawmaker, but appreciated her all the same. "I disagree with the representative on almost every policy or position she takes but on this point, on the importance of democracy and the danger that Donald Trump continues to present, we are in full agreement. I salute you for standing strong and being vocal Rep. Cheney," said one. 
Another social media user refused to concede that Liz Cheney was worth voting for, tweeting: "I don't agree with her about Bidens agenda. She's truly a Republican which I would never vote for. Republicans don't want to help the American people. Our country is need of what Biden is doing. I do thank her for taking a stand for the people on the Insurrection."
But the greatest anger directed at Cheney's way came from her arch-nemesis Donald Trump, who yet again took the opportunity to call the lawmaker out. He released a statement on November 9, calling the January 6 committee an "unselect committee of politically ambitious hacks" who are supposedly investigating the wrong incident. "That's right, the Committee is studying the PROTEST when it should be studying the Fraudulent Election that led to the protest," Trump said in the statement (via CNN).