Why Travis Scott's Old Instagram Posts Are Raising Eyebrows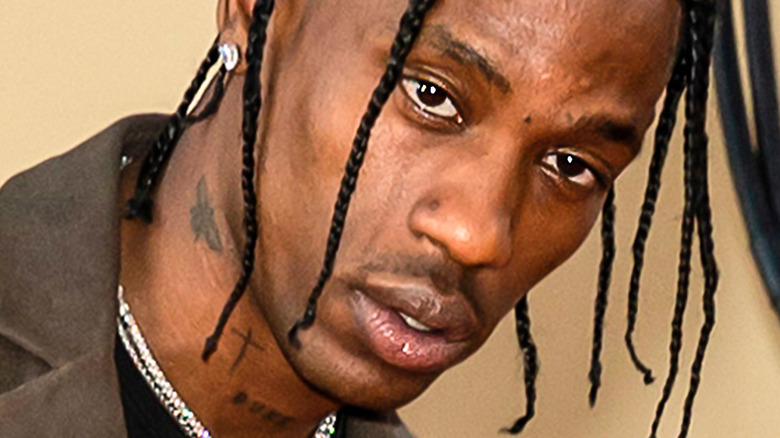 Ovidiu Hrubaru/Shutterstock
Travis Scott found himself under intense scrutiny following the tragedy that left eight dead and more injured during his set at Astroworld Festival on November 5. According to The New York Times, his performance in Houston, Texas continued more than a half-hour after the situation had been deemed a mass casualty event by city officials. Footage from the concert shows fans pleading with him to stop the show, though it is unclear if he could understand the message from the stage (via Newsweek).
Scott issued a statement about the tragedy via social media. "Any time I can make out anything that's going on, I stop the show and help them get the help they need," he said in an Instagram Story (via Billboard). The hitmaker added that he was unaware of the "severity of the situation." However, lawsuits are rolling in, per Rolling Stone, alongside claims that Scott has a history of encouraging fans to act out at concerts.
Critics cited a line on his song "Stargazer" — "It ain't a mosh pit if ain't no injuries" — as well as his past shows as examples of previous misbehavior, per NBC News. For instance, in 2017, a concertgoer was left partially paralyzed after allegedly being pushed off a balcony. In a video from the same performance, the rapper can be heard encouraging another fan to leap into the audience from the balcony, according to Today. Naysayers also found evidence of the star appearing to glorify injured fans at his shows on Instagram.
Travis Scott seemingly celebrated fans who were hurt at his shows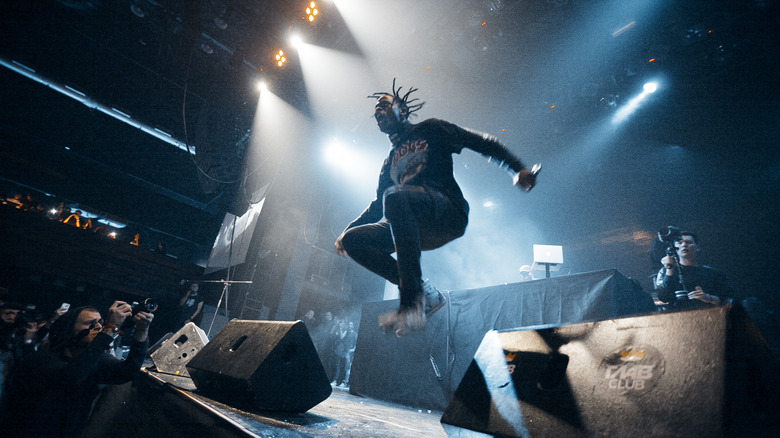 hurricanehank/Shutterstock
Evidence suggests Travis Scott may have a history of inciting dangerous behavior at his shows. The New York Post noted that he's been arrested twice, has been accused of inciting a riot, and said to GQ in 2015 that he appreciated seeing his fans "raging and having fun." And the rapper seemingly glorified those who took things too far by posting photos of bloodied and unconscious concertgoers on Instagram.
His account, which boasts a following of 43.9 million, featured several since-deleted snapshots of battered fans who appeared to sustain injuries at his concerts (via the New York Post). A caption on one of the reported posts (several of which were also picked up by TMZ and the Mirror) refers to the hurt fan as his "hero." Another reportedly celebrated a woman who broke her hand but didn't "give a f***." One Instagram post that's still up shows a bloodied fan alongside the caption "I love u."
Many have taken to the comments section of the photo to share their thoughts. One critic simply posted "#canceltravisscott." Another called him out for "sneak deleting" other photos. "You are trash," the user added. "Once you put something on the internet it's always there," someone pointed out. Still, some came to Scott's defense. One fan accused Astroworld's organizers and asserted naysayers didn't understand "rage culture." Another claimed that haters "just like cancelling people." Clearly, both the photos and Scott's behavior have polarizing effects.