Paul Rudd Just Shared The Most Relatable Comment About Chris Hemsworth's Muscles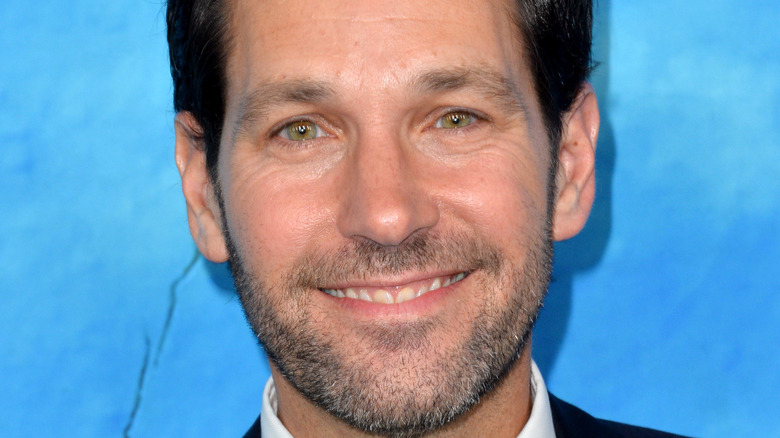 Featureflash Photo Agency/Shutterstock
Paul Rudd fans went wild when the actor was named People Magazine's Sexiest Man Alive for 2021. Rudd has been crushworthy for years, starring in films such as "Clueless," "The Object Of My Affection," "Anchorman," and "Ant-Man" (via IMDb). However, when he heard the news that he'd been chosen for the honor, he was a bit surprised. "I do have an awareness, enough to know that when people hear that I'd be picked for this, they would say, 'What?'" Rudd told People. "This is not false humility. There are so many people that should get this before me."
Rudd admits that he's never really seen himself as a heartthrob or one of Hollywood's hunky leading men. Instead, he thinks of himself as a normal family man. "When I think about myself, I think of myself as a husband and a father, like I'm that," he confessed. "I just hang out with my family when I'm not working. That's what I kind of like the most." However, the actor did joke that now that he's been named Sexiest Man Alive he may finally get into some special events with former winners of the title. "I'm hoping now that I'll finally be invited to some of those sexy dinners with Clooney and Pitt and B Jordan," he said.
While Rudd may not see himself as the Sexiest Man Alive, he can vouch for one of his Marvel co-stars, Chris Hemsworth.
Paul Rudd reveals funny on set moment with Chris Hemsworth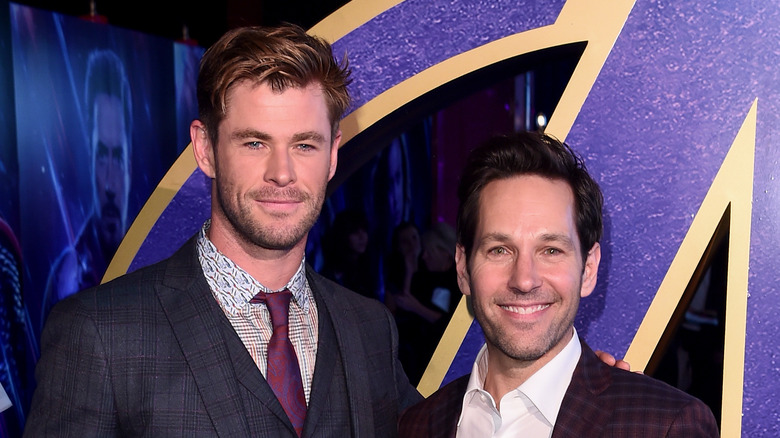 Eamonn M. Mccormack/Getty Images
People's Sexiest Man Alive Paul Rudd has shared the screen with many of Hollywood's top names. After joining the Marvel universe as Ant-Man, Rudd found himself working with the hunky A-listers such as Robert Downey Jr., Chris Evans, Mark Ruffalo, Jeremy Renner, Anthony Mackie, Tom Hiddleston, and more, per IMDb. However, one interaction with his "Avengers" co-star Chris Hemsworth left him feeling a bit insecure, per Insider.
Rudd recently recalled a time on set with Hemsworth, who plays Thor in the Marvel films, where he felt a bit undersized. "I remember on the set of 'Endgame,' I was working out so hard, eating perfect, for so long, training like an athlete," Rudd confessed to People Magazine. "And I stood next to Chris Hemsworth, and I thought, 'What's the point?' Why even try, 'cause there's that."
Previously, Rudd told late-night host Stephen Colbert that he trained hard and ate "a lot of fish all the time" in order to get his body into shape for the role of Ant-Man in the Marvel films. Rudd admitted that he felt pressure to stay in shape because he had a shirtless scene in each "Ant-Man" film. However, the shirtless scene in the sequel was eventually cut during editing.
While Rudd may compare himself to the likes of Hemsworth, his fans seemingly have no complaints about his physique, or his Sexiest Man Alive title.