Housewives Of The North Pole - Details We Know So Far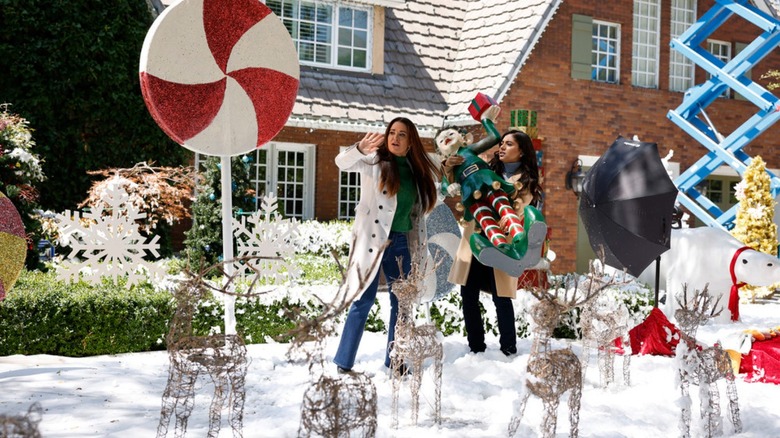 Fred Hayes/Peacock
It's the most wonderful time of the year and Peacock is getting in on the fun with their very first original Christmas movie. They're entering the genre with a bang, courtesy of "The Housewives Of The North Pole."
Yup, you read that right. This fictional take on a reality dream comes true with the help of a "Breaking Bad" alum and a one of the original "Real Housewives" from Bravo's plethora. "The Christmas Queens of North Pole, Vermont, Trish and Diana, have won the Best Holiday House decorating competition every year for the past nine years," Peacock said in a press release describing the film. "But days before Christmas, a friendship-ending argument sparks a town-wide feud and draws the attention of a national magazine writer hoping to make a name for herself with her scintillating expose."
The holiday film already seems like it'll be full of drama and laughs. Now, we're learning more about its stars.
Who is in the The Housewives Of The North Pole cast?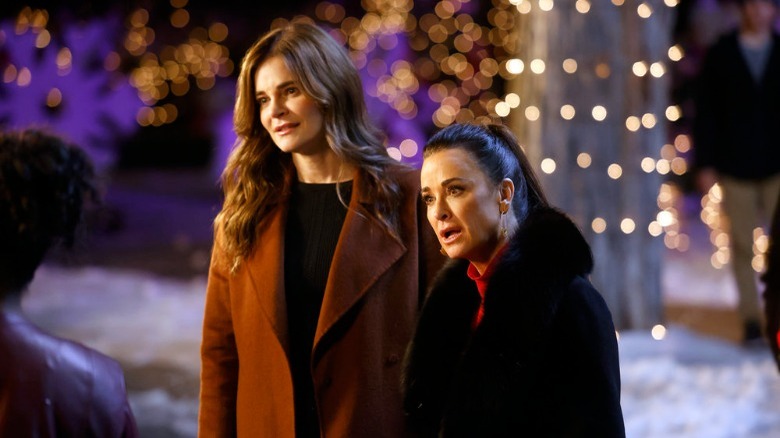 Fred Hayes/Peacock
If "The Housewives of the North Pole" is going to be about dueling best friends fighting over a love of Christmas, Peacock knew they needed to bring it with their casting of Trish and Diana. They delivered with their announcements that Betsy Brandt of "Breaking Bad" fame would step in to play Diana. In the role of Trish is "Real Housewives Of Beverly Hills" star Kyle Richards (per Deadline).
They won't be the only ones lighting up the screen, of course. Jearnest Corchado will play Trish's daughter Skye, whose arrival home adds some extra drama to the already-tense holiday (per People). Her father, Trish's husband, is played by Carlos Ponce.
Kyle Selig will play Diana's son, Jake, a newly-minted college graduate trying to figure out what's next. Tetona Jackson appears as the magazine writer writing an expose on the feuding friends.
When will The Housewives of the North Pole be released?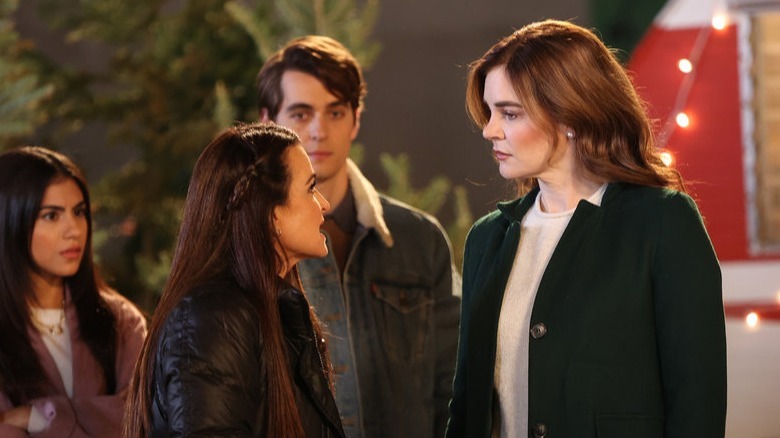 Natalie Cass/Peacock
If you're excited to check out Betsey Brant and Kyle Richards in "The Housewives of the North Pole," you're not alone. There's already quite a bit of hype for this upcoming holiday film on social media, including from the cast.
"I have had such a great time making this Christmas movie. You all know how much I LOVE Christmas!" Richards shared on Instagram prior to many of the film's details being released. "Making a Christmas movie is a dream come true. I have been so fortunate to work with such an amazing cast [and] crew. I can't wait for you all to see it."
"Still pinching myself! This felt like a dream. I'm absolutely in love with our cast and I hope you all are to. Can't wait for you all to watch our @peacocktv Christmas movie 'The Housewives of the North Pole'" Jearnest Corchado tweeted.
While Peacock hasn't confirmed the film's release date, it'll almost certainly begin streaming before Christmas morning.