Did This Awkward Incident Leave The Queen Red-Faced At Her Stables?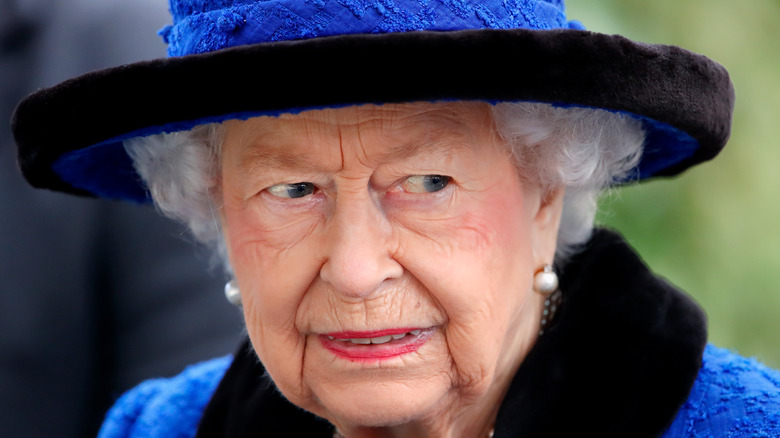 Max Mumby/indigo/Getty Images
For nearly 70 years, Queen Elizabeth II has been the beloved monarch of Great Britain. While her position of power might give others the impression that she is not human enough to be subjected to awkward moments, there are at least a few notable exceptions that exist. Apart from being caught on camera picking her nose, Queen Elizabeth has been involved in a number of rather embarrassing (and very public) exchanges. As you might imagine, many of these embarrassing moments have taken place between herself and other high-profile stars.
At the "Die Another Day" premiere in 2002, the Queen seemed to not recognize Madonna, who, at that point, had been an international pop star for at least a few decades. To make matters worse, shortly after failing to recognize Madonna, Queen Elizabeth turned to John Cleese, who played Q in the movie, and asked, "What do you do?" according to The Sun.
Despite the fact that there are royal protocols put in place to stop awkward slips from happening during royal meet-and-greets, quite a few notable slips have taken place between Queen Elizabeth and political leaders. At least one of the embarrassing moments (at least for former President Jimmy Carter), occurred when he actually broke royal protocol to kiss Queen Elizabeth's mother, Elizabeth Angela Marguerite Bowes-Lyon, on the lips, per Insider. Weird.
Thus far, most of the embarrassing moments have barely seemed to phase the Queen, however, a recent mishap during a royal visit might have left the Queen a bit red-faced.
One of Queen Elizabeth's animals passed gas at a very inopportune time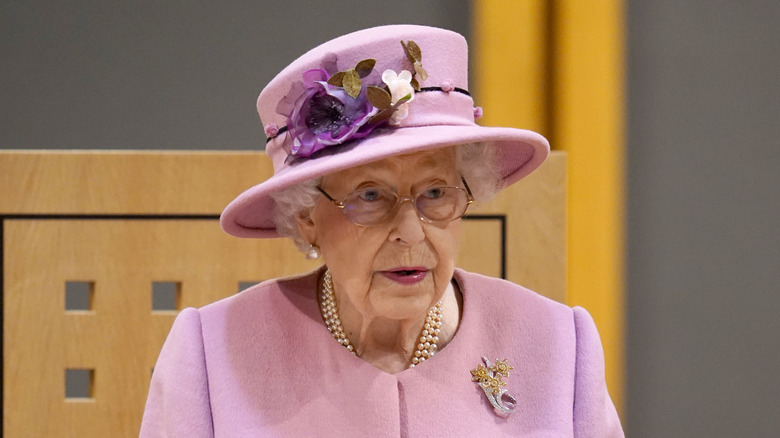 Wpa Pool/Getty Images
In a report published by Express on Thursday, a hilarious interaction between Queen Elizabeth II and an undisclosed foreign dignitary was revealed to involve passing gas. According to Express, Queen Elizabeth was giving this foreign dignitary a tour of her stables when one of the animals passed gas very loudly. Apparently, a very awkward pause took place between Queen Elizabeth, who appeared to be incredibly embarrassed, and the foreign dignitary. Eventually, to ease the tension, Queen Elizabeth said, "I do apologize, your excellency," to which the foreign dignitary quipped, "It is no problem, your majesty. I thought it was one of the horses," per The Times, via Express.
It seems as though the royal family is a bit obsessed with flatulence as of late, given the fact that Camilla Parker-Bowles simply can't stop talking about President Joe Biden's "long fart" that allegedly occurred right in front of her this past weekend. According to Daily Mail, President Biden and Parker-Bowles were making small talk during the 2021 United Nations Climate Change Conference in Glasgow, Scotland, last week when Biden passed gas very loudly. "It was long and loud and impossible to ignore," a source told Daily Mail. "Camilla hasn't stopped talking about it."