Kate Middleton Just Subtly Revealed New Details About Prince William's Military Career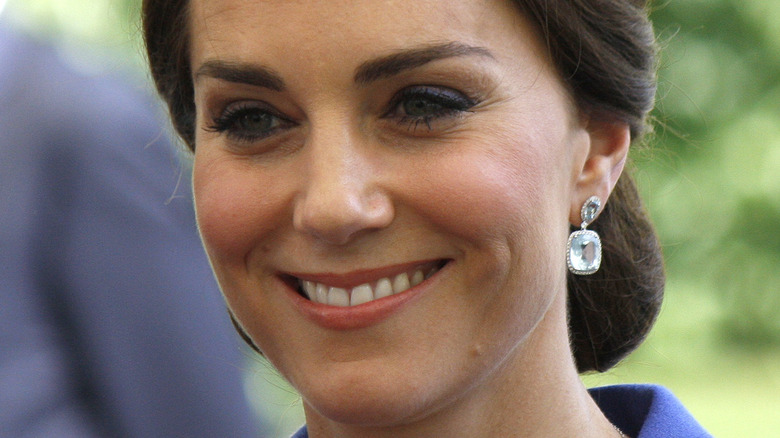 360b/Shutterstock
Kate Middleton has revealed new details about the military career of her husband, Prince William. According to People, Middleton filmed a special video to mark Remembrance Sunday in the United Kingdom, a day that honors fallen members of the British armed forces. In the video, which was uploaded to the Duke and Duchess of Cambridge's official YouTube channel, Middleton sits down to speak with a 98-year-old veteran, Colonel David Blum OBE, and a 10-year old Cub Scout, Emily Edge. 
The video, eight-and-a-half minutes long, begins with Middleton asking Colonel Blum about what Remembrance Sunday means to him, and about his memories of serving in the British military in the Second World War. "I lost a few friends — one in particular, I remember he was killed a day or two before the war ended. That, I must say, affected me quite a bit," he responds (via YouTube). 
In the video that was created in collaboration with the Royal British Legion charity and The Scouts, Middleton goes to help make a poppy emblem, which is used as a symbol of Remembrance Sunday in the U.K., and discussed her husband Prince William's time at Sandhurst Military Academy. 
Kate Middleton shared details of Prince William's military training
Asking about Colonel Blum's own experience training as an army officer at the Royal Military Academy Sandhurst, Middleton commented, "It was probably a lot tougher then than when my husband did it, but I've heard a lot about it." This prompted the British army veteran to respond that Sandhurst "had its moments."
In the interview posted on YouTube, Middleton goes on to ask the Scout, Emily Edge, why she believes commemorative events, including Remembrance Sunday, are important. "It's important to remember all the servicemen and women who sacrificed their lives so we can live freely and happily today," Edge tells the duchess. 
Per the BBC, the Duke of Cambridge was commissioned as an officer in the British Army following his graduation from the Royal Military Academy Sandhurst in December 2006. The end of his training was marked with a military parade ceremony, which was attended by Middleton and other senior members of the British royal family.
As People reported, the Duchess of Cambridge will commemorate Remembrance Day along with the rest of the royal family on Sunday, November 14 in the United Kingdom.