Is This How Trump Staffers Really Felt After Herman Cain's COVID-19 Death?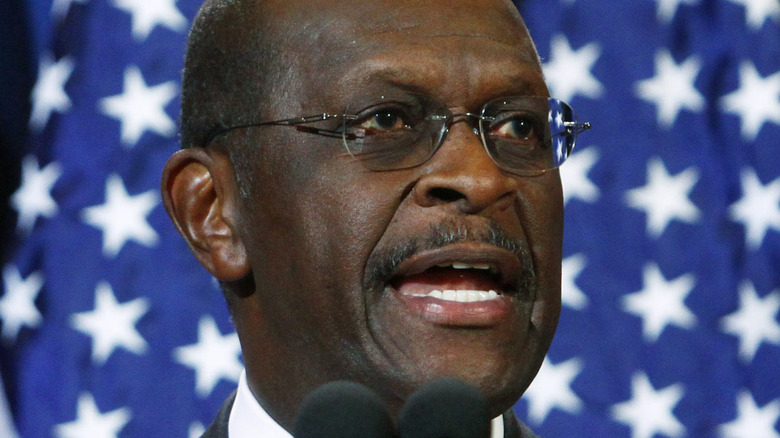 Eric Thayer/Getty Images
When former Republican presidential candidate Herman Cain died in 2020 after a month-long battle with COVID-19, many believed that he caught the virus at a rally he attended for President Donald Trump in Tulsa, Oklahoma in June. While that was never confirmed, reporting then and as of this writing has indicated that the rally may have been a super spreader event. In fact, when COVID cases began to rise after the rally, Tulsa's health department director Bruce Dart said the event "likely contributed" to the virus surge (via the Associated Press).
The June rally was the first one the former president had held in months, thanks to the coronavirus pandemic shutting down the world in March. Trump, who seemed to thrive on rallies since he first started running for president in 2016, was itching to get out of the White House and back on the road, according to the new book "Betrayal: The Final Act of The Trump Show" by Jonathan Karl, excerpted in Vanity Fair. President Trump was especially anxious after he was told that he was in danger of losing the 2020 election.
Donald Trump insisted on a rally despite the dangers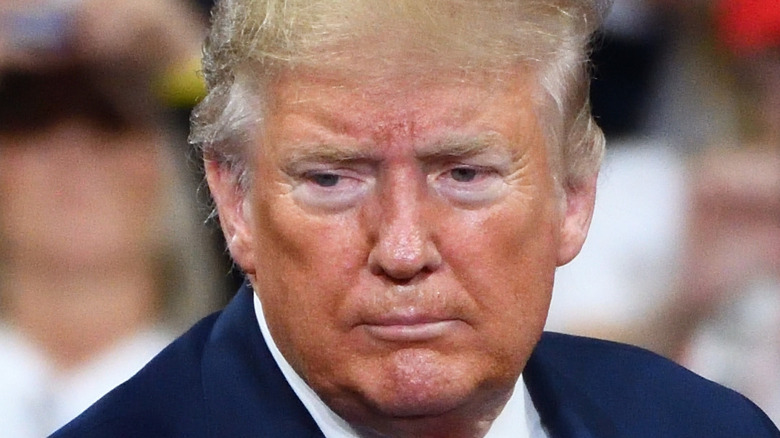 Evan El-Amin/Shutterstock
Donald Trump had not held a rally in months when he decided June would be a good time to travel to Oklahoma and hold one in an indoor arena with a pandemic still raging. The bad news had been pouring in since April. "In February, you were on track to win more than 400 electoral votes," his campaign manager, Brad Parscale, told the president (via Vanity Fair). "But now you are losing ground everywhere."
This news so alarmed Trump that he insisted on the Tulsa rally, even though there were red flags everywhere, including eight campaign staffers testing positive for COVID right before the event, according to the Vanity Fair excerpt. The actual rally did not draw the crowd Trump had dreamed of, but there were enough people attending not wearing masks — as Herman Cain demonstrated with a smiling photo shared on social media — to cause viral spread.
Trump staffers were shocked when Herman Cain died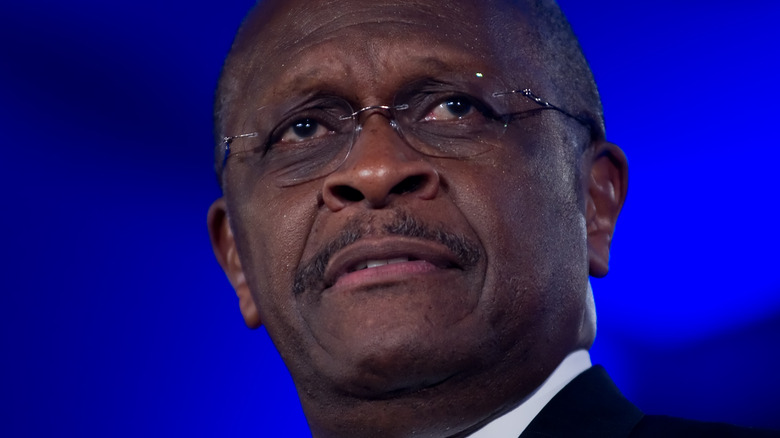 Christopher Halloran/Shutterstock
The rally was held on June 20, 2020, and by June 29, Herman Cain had tested positive for COVID, according to The New York Times. He was hospitalized, but died on July 30 at the age of 74.
According to "Betrayal: The Final Act of the Trump Show," excerpted in Vanity Fair, the Trump campaign had flown Herman Cain in because he was a prominent and popular supporter of the president, but when the news came that he was sick, and then died, the staff blamed themselves.
"We killed Herman Cain," one staffer told ABC News reporter Will Steakin, with Jonathan Karl saying that campaign staff members were devastated by Cain's passing.
Although Cain's website editor, Dan Calabrese, said that Cain was traveling a lot at the time (via The New York Times), it was clear that many people with the Trump campaign believed Cain caught COVID at the Tulsa rally that they had made sure he would attend.