Dave Bautista's Criticism Of Kyle Rittenhouse Has Twitter Divided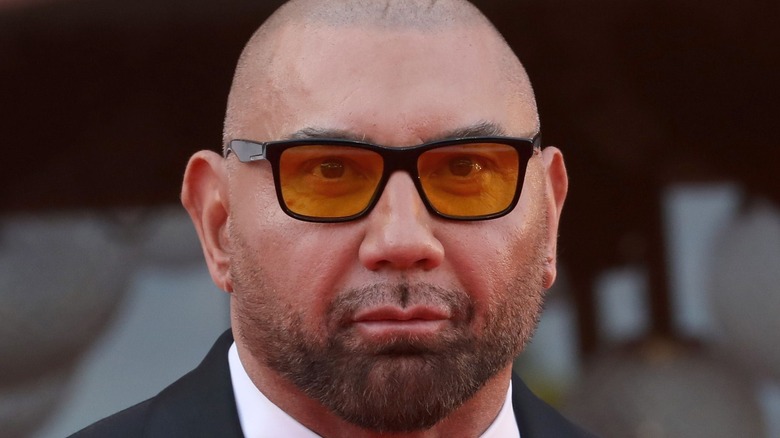 Elisabetta A. Villa/Getty Images
In August 2020, then-17-year-old Kyle Rittenhouse brought a gun to a large protest in Kenosha, Wisconsin. The demonstration denounced the shooting of 29-year-old Jacob Blake by a Kenosha police officer. Rittenhouse, who supported the Blue Lives Matter movement and then-President Donald Trump, headed to Kenosha to defend those businesses that he supposed would be at risk from damage and looting from protesters, per CNN.
On the night of August 25, Rittenhouse was walking the streets of Kenosha long after curfew with a firearm when, according to witness testimony, Joseph Rosenbaum threw what appeared to be a plastic bag at him. The pair appeared to struggle — at least one eyewitness claimed that Rosenbaum reached for Rittenhouse's gun — until Rittenhouse shot him. After shooting (and ultimately, killing) Rosenbaum, Rittenhouse ran from the scene while being pursued by people who wanted to hold him accountable for what he had just done. After running, tripping, and falling to the ground, Rittenhouse was involved in another altercation that left Anthony Huber dead and Gaige Grosskreutz wounded.
For the past week, the public has been captivated by Rittenhouse's trial, which has featured riveting testimony from the defense and prosecution. Essentially, while Rittenhouse's defense team is attempting to persuade the jury to reach the conclusion that their client's actions were simply self-defense, the prosecution is stating that Rittenhouse arrived in Kenosha with the intent of being violent, per Reuters.
Dave Bautista is not a fan of Kyle Rittenhouse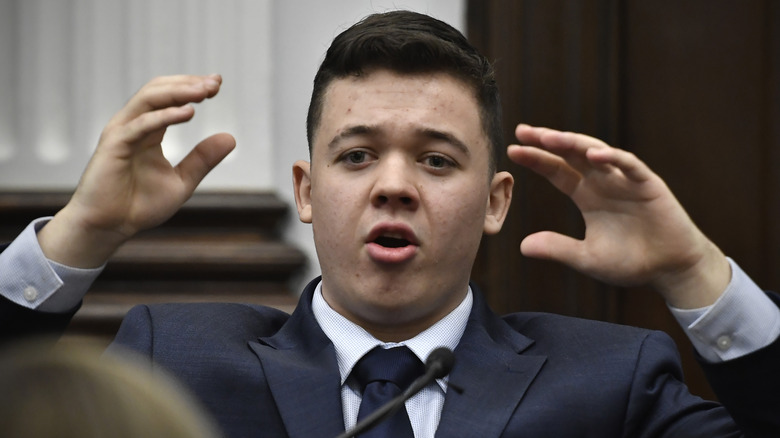 Pool/Getty Images
On Wednesday, November 10, Kyle Rittenhouse (above) testified in his own trial, breaking down in tears while describing the events that took place on that fateful August evening. After a video surfaced of this tearful display, many celebrities took to social media to criticize and poke fun at Rittenhouse and his testimony. Along with LeBron James and other celebrities, "Dune" actor Dave Bautista took to Twitter to broadcast his dislike for Rittenhouse after the defendant's testimony on Wednesday. "Seriously. F*** that kid. F*** his breakdown. F*** that judge. He's a murderer who set out to murder people. He got out on bail and celebrated his murders with f****** racists. I have zero sympathy for him and neither should anyone else," Bautista tweeted. Bautista also retweeted several posts about Rittenhouse, commenting, "F*** that kid!"
Many of Bautista's fans seemed to agree with the actor on his interpretation of the Rittenhouse trial. "How do you cross state lines when you are underage with a gun you aren't allowed to own and claim self-defense?" one user responded to Bautista's tweet. "You're clearly looking for trouble." However, other fans claimed that Bautista had it all wrong. "The video that was shown in court clearly shows that Mr. Rittenhouse used self-defense against his attackers," another Twitter user responded to Bautista's tweet. "Plus one of the witnesses brought up on the stand blatantly said that the media's narrative was false. Mr. Bautista, please think this over."