What Steve Bannon's Indictment Really Means For His Future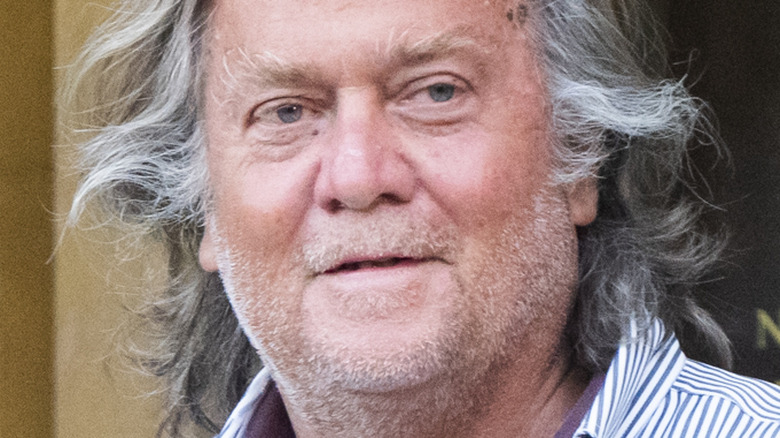 Bloomberg/Getty Images
He was in the legal doghouse before for fraudulently raising at least $25 million for former President Donald Trump's wall, and for then taking that money for his own personal use, per Forbes. Today, Steve Bannon is facing jail time again — this time for contempt of Congress and for not meeting with members of the January 6 House Committee investigating the deadly riot (via the Department of Justice). The November 12 indictment was handed down by a federal grand jury.
In a release from the Department of Justice covering the indictment, Attorney General Merrick Garland explained: "The subpoena required him to appear and produce documents to the Select Committee, and to appear for a deposition before the Select Committee. According to the indictment, Mr. Bannon refused to appear to give testimony as required by subpoena and refused to produce documents in compliance with a subpoena."
Bannon had tried to use executive privilege, or the right to refuse a court or Congressional request to reveal communications within the White House, per The Washington Post. The House voted Bannon in contempt for failing to show up to answer questions in late October, per NPR.
NBC News says Bannon's indictment is unique because no one has been prosecuted for contempt of Congress after asserting executive privilege before. When others had used that excuse in the past, they were still working in government service; Bannon left in 2017.
The Bannon indictment sends a clear message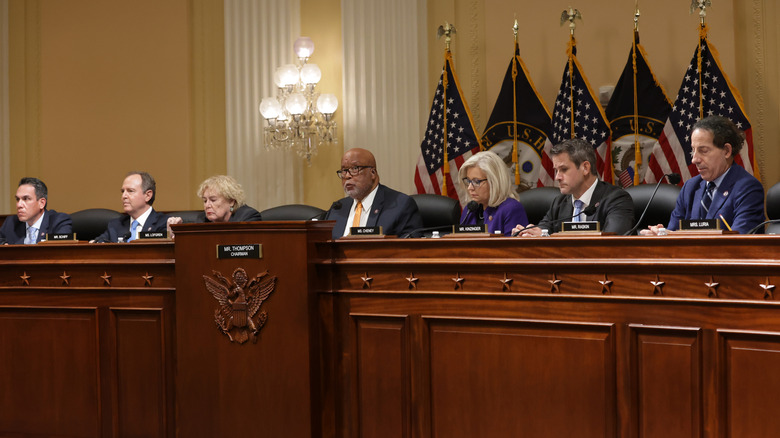 Alex Wong/Getty Images
The Department of Justice says Steve Bannon's contempt of Congress encompasses two counts: the first for refusing to appear before the House Committee to answer questions, and the second for refusing to provide documents despite a call from Congress for him to do so. The DOJ also says each count of contempt carries a fine of between $100 to $1,000, and a minimum jail time of 30 days — and a maximum jail time of one year. He is expected to surrender and appear in court on November 15, per USA Today.
In announcing the contempt charges, Attorney General Merrick Garland said: "Since my first day in office, I have promised Justice Department employees that together we would show the American people by word and deed that the department adheres to the rule of law, follows the facts and the law and pursues equal justice under the law. Today's charges reflect the department's steadfast commitment to these principles."
Top members of the January 6 House committee Bennie Thompson and Liz Cheney have released a statement saying that Bannon's indictment "should send a clear message to anyone who thinks they can ignore the Select Committee or try to stonewall our investigation: no one is above the law," the lawmakers said. "We will not hesitate to use the tools at our disposal to get the information we need."