The Heartbreaking Death Of Happy Days Star Gavan O'Herlihy
The world has lost yet another well-loved face in TV and film. On November 12, the news broke that Irish "Happy Days" star Gavan O'Herlihy died in England nearly two months earlier. Those close to the actor have expressed their sadness about his death and reflected on the lasting impact he had. Let's take a look back on his long life and the many roles he has brought to life.
The Irish Echo was the first to report on O'Herlihy's death; his agent, Michael Emptage, later confirmed the death to Fox News. There are currently no details available on his cause of death. 
O'Herlihy was born on July 29, 1951, in Dublin, Ireland with the given name Gavan John O'Herlihy, per IMDb. His first acting credit was for a single episode of "The Mary Tyler Moore Show" in 1973 as John McBride. He went on to make a name for himself playing Chuck Cunningham in "Happy Days" and starred opposite Sean Connery in the James Bond film "Never Say Never Again" in 1983. He died on September 15 in Bath, England.
Mourning Gavan O'Herlihy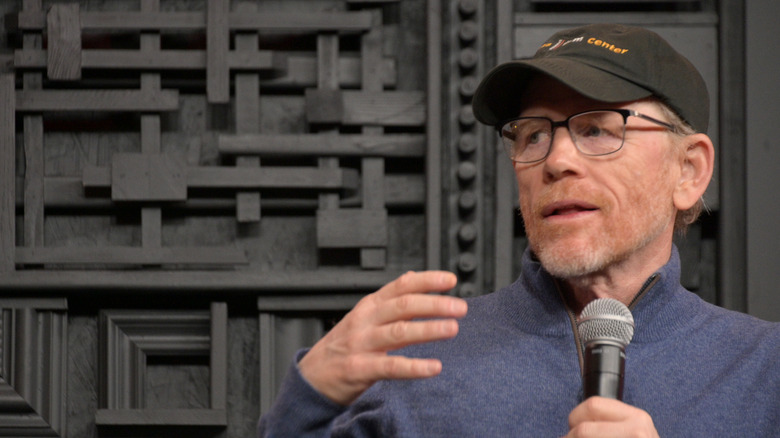 Michael Loccisano/Getty Images
In the wake of Gavan O'Herlihy's death, those who worked with him shared statements mourning his death. O'Herlihy's agent, Michael Emptage, issued a statement to Fox News when confirming the death, singing his client's praises. "He was a wonderful actor with a long and distinguished career in film, television and theatre and was respected as a man of directness, sincerity, and honesty. Gavan was larger than life and is greatly missed by all who knew him, most particularly by his adoring wife and family," he wrote.
Along with Emptage, O'Herlihy's former "Happy Days" costar Ron Howard said goodbye to the late actor on Twitter. Along with acting side-by-side on "Happy Days," Howard also directed the film "Willow," which featured O'Herlihy, per People. "RIP Gavan," Howard tweeted. "I knew him as the 1st of 2 Chucks on #HappyDays & then as Airk in #Willow where I had the pleasure of directing him. A talented actor with a big free spirit."
As the world mourns the loss of such a talented actor, his legacy and the high praise of his friends and co-workers is surely a comfort to his family.