How To Bring Your White Towels Back To Their Former Glory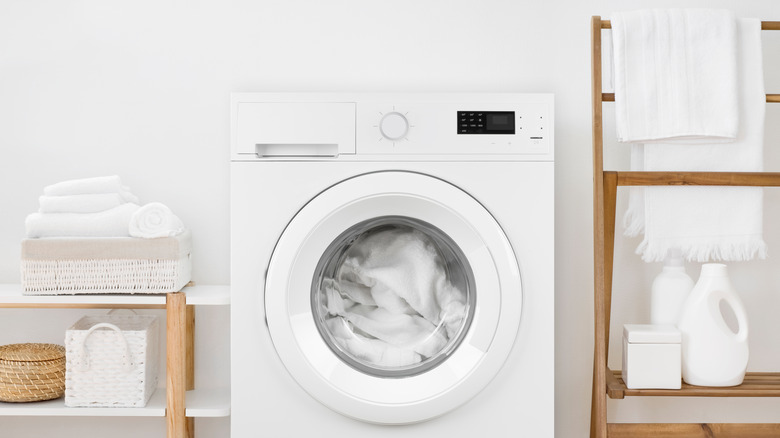 Didecs/Shutterstock
The only thing worse than realizing your white towels have lost their shine is actually shopping for new towels. Thankfully, that's not your only option. There's actually super easy ways to take your towels from dull and off-colored to sparkling white. Because, let's just be honest, there's no way to stop your towels from getting used, but there is a way to make them look brand new again.
Whether you're having people stay with you or just want to make your old towels look and feel new again, making your towels white doesn't have to be a super challenging task. Spoiler alert: We're not talking about washing the towels over and over again. There are two standout ways to make those towels shine, and you don't have to break the bank doing it.
While one brand suggests trying laundry stripping, the other has a fool-proof method for washing your clothing normally. Either way, get ready to save yourself time and money with these laundry tips, because nothing is better than a laundry hack that doesn't cost you a ton of time. 
Laundry strip your towels to make them whiter
One of the most foolproof ways to get your towels more white is laundry stripping. If you're not familiar with this trick, Maytag explains it as "an aggressive cleaning method designed to remove built-up soil, laundry detergent, and fabric softener from 'clean' laundry with a chemical solution." 
While that sounds super fancy, it's actually just sprinkling a few detergents into hot water and soaking your clothing — or, in this case, towels — overnight. Think of it as the deep wash your washing machine just can't give you. 
Go Clean Co, a professional cleaning company who is Instagram famous, gives a full recipe for how to strip clothing. According to them, all you need to do is take one cup of Powdered Tide Laundry, a fourth cup Borax, and a fourth cup of Arm and Hammer Washing Soda and pour it into really hot water in your bathtub (via Instagram).
You soak the clothing for at least five hours, stirring every hour, and then toss them into the washer like normal. The outcome will be whiter towels and it will only take you a few hours. 
Amp up your laundry routine
If laundry stripping sounds like a little too much work to you, there's another option for making your towels whiter. Actually, it doesn't involve any extra cleaning at all — just amping up your laundry routine. Stripping isn't the best way to making laundry whiter. Instead, the brand suggests adding their All Purpose Bleach Alternative into your routine.
"If you're already facing dull, dingy linens, add 1-2 capfuls of whites and color safe, chlorine-free All-Purpose Bleach Alternative to your wash routine," The Laundress says in a blog post. The product in question is $16 per bottle and fragrance free, but you can always try other bleach alternatives to find the one that's right for you regarding budget and scent. 
Whether you're looking to strip your laundry clean or just opt for a better washing routine, it's good to know that there are options out there.