Is Joe Biden The Reason Kamala Harris' Popularity Is So Low Right Now?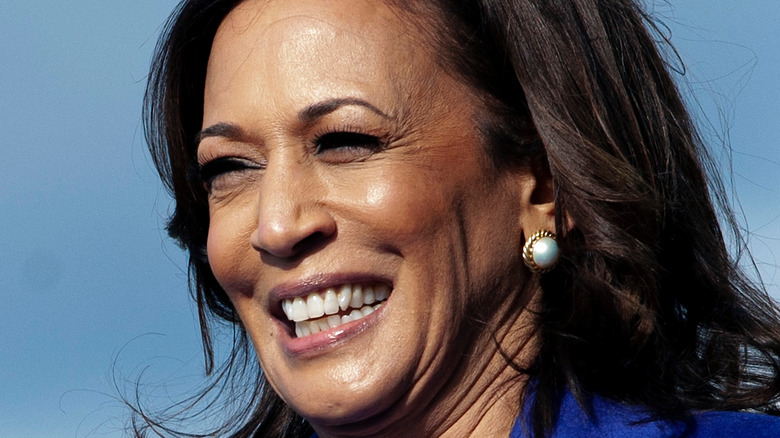 BiksuTong/Shutterstock
Vice President Kamala Harris' low approval rating could be down to President Joe Biden, according to some political commentators. 
As Politico reported, a recent USA TODAY and Suffolk University poll revealed that Harris had a surprisingly low approval rating of just 28%, a figure even lower than the former Vice President Dick Cheney, who during his time in office was known as being the most unpopular VP in modern history.
News of the shocking poll has led many to wonder what is behind Harris' waining popularity, and even late-night host Jimmy Kimmel jokingly shared his view on the Vice President's low approval rating. "She basically has nothing to do ... It's like criticizing a backup quarterback. 'Tom Brady is OK. I don't love the way Blaine Gabbert has his legs folded on the bench,'" he joked (via Fox News). 
Speaking on his show, the "Jimmy Kimmel Live" host went on to suggest that Harris' approval ratings are low due to "sexism and racism," adding that "whenever she's next to Joe Biden, standing near or behind him, she looks like an assassin."
However, experts in the political sphere have their own ideas as to why Harris' popularity has taken a significant dip. 
Some blame President Joe Biden for Kamala Harris' low approval ratings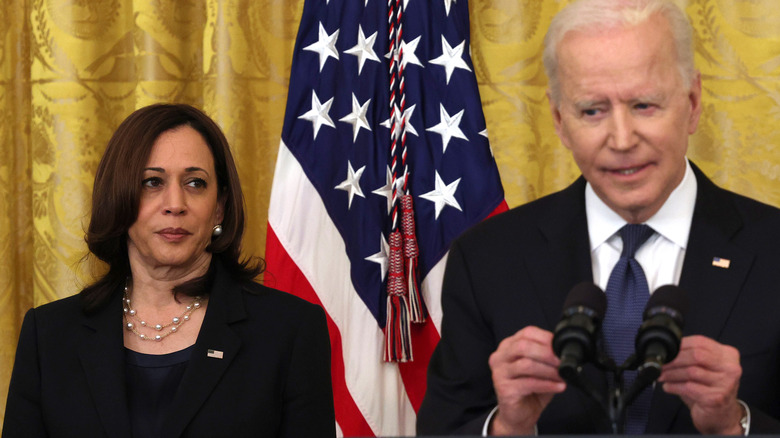 Anna Moneymaker/Getty Images
Commenting on the recent USA TODAY and Suffolk University poll, the vice presidential scholar, Joel Goldstein, shared his views with Politico that one of Harris' problems is that many Americans simply "don't know who she is," and if they are aware of her, they have "no idea what she's doing or what she's not doing."
As USA Today reported, Goldstein added that the highly-polarized state of US politics also "limits the ceilings of presidents and vice presidents in ways that wasn't once the case," and said that as Democrats begin to push programs such as Build Back Better, pass the infrastructure bills, and complete the vaccine rollout, Harris and President Biden's approval ratings will likely "improve."
Meanwhile, a political scientist at Emory University, Andra Gillespie, put the blame of Harris' low ratings on President Biden's shoulders, who's own approval rating plunged 14 percentage points between June and October 2021 (via The Economist). "This administration is going to rise and fall on the decisions that Joe Biden makes. And so Kamala Harris can't be the scapegoat every time Joe Biden has a bad day," Gillespie said.
Low approval ratings haven't been the only problems faced by Harris in recent weeks, as a report published by CNN in November 2021 described her time as Vice President so far as being "entrenched" in "dysfunction" with "a lack of focus."