Jeff Bezos' Prediction About Our Future In Space Has The Internet Talking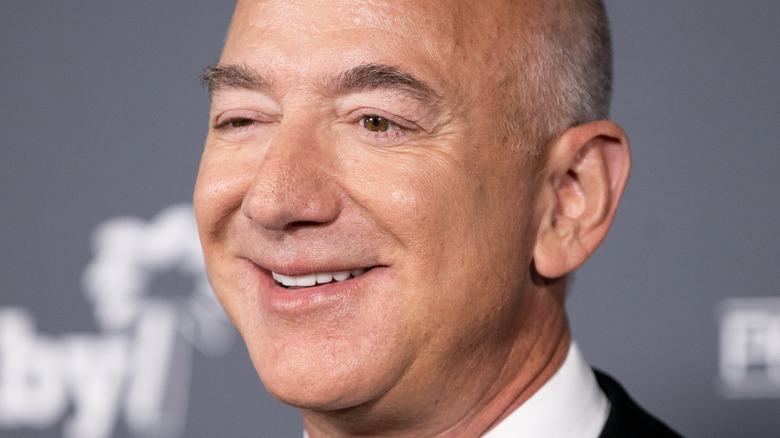 Emma Mcintyre/Getty Images
Recently, Jeff Bezos spoke at the Ignatius Forum in Washington D.C., where he shared interesting thoughts about our planet's future. According to the event website, speakers such as Director of National Intelligence Avril Haines, NASA Administrator Bill Nelson, astronomer Avi Loeb, and astrophysicist David Wilkinson discussed the human race's future in space. The conference comes, per its website, amidst the "space rush," or, as they put it, "a moment when private citizens are launching spaceships."
Bezos — who founded Amazon in 1994, and Blue Origin – an aerospace manufacturer and sub-orbital spaceflight services company — in 2000 (via The Seattle Times) — explained during his talk that he thinks Earth will be a ... vacation destination. "Over centuries, many people will be born in space. It will be their first home," he stated. "They will be born on these colonies, live on these colonies, then they'll visit Earth the way you would visit, you know, Yellowstone National Park" (via The Business Standard). He also added that the name "Blue Origin" was a reference to humanity's beginnings on earth, but not its final destination. Ok! 
Bezos described floating space cities (as opposed to ones on Mars) with forests, rivers, and wildlife and suggested that all manufacturing will be done in deep space, too, as reported by TMZ.
'Will we still get two-day shipping,' one social media user joked as reactions blasted off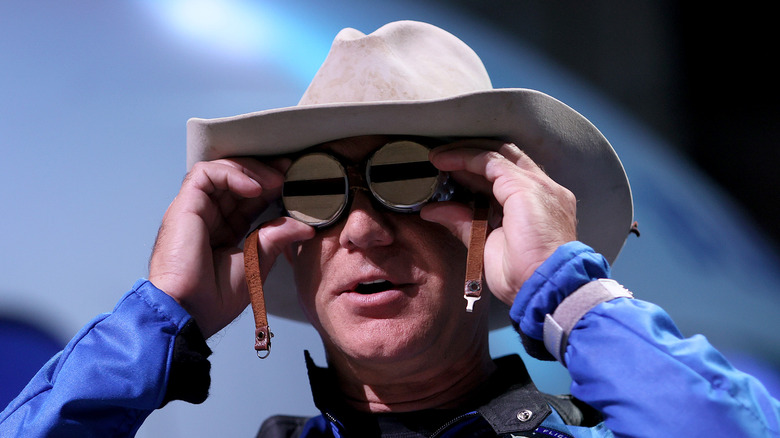 Joe Raedle/Getty Images
After Jeff Bezos shared where and how he thinks humans will live in the future, the internet started filling up with opinions on the topic. "I fully support Jeff Bezos relocating to outer space and only visiting Earth periodically," wrote one person, who is apparently not a fan of the entrepreneur, on Twitter. Some Twitter users discussed how "technology keeps evolving," with one tweet reading, "Never say never, I guess. Just not likely for generations."
While there are those who dream of flying out into outer space, the thought frightens others. "I'm not going to space," stated another tweet. "I can barely handle a ride at Six Flags!" And, of course, some social media users wondered if this would affect their online shopping habits, as seen in this example from Twitter: "If manufacturing is done on space colonies, will we still get two-day shipping?"
At the forum, Bezos touched upon his trip to space in July, too. "The magnitude of that experience was so much bigger than I could have ever anticipated. It really is such a change in perspective that shows you in a very powerful and emotional way, just how fragile this Earth is. I wish everyone could have that perspective" (via The Business Standard).