Inside Prince Harry's Detailed Plan To Combat Fake News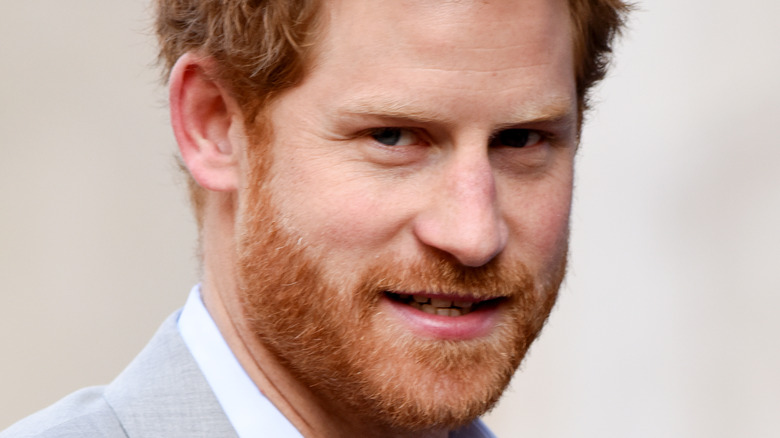 Bart Lenoir/Shutterstock
For more than six months, Prince Harry has been working with the Aspen Institute as a "commissioner on disinformation." He's one of 15 commissioners and three co-chairs who have studied the "avalanche of misinformation" and have now released a report on how to tackle fake news. According to the Daily Mail, the report includes 15 recommendations that the team hopes are considered by those in the "tech industry, the media industry, by policymakers, and leaders."
"For the better part of a year, we at the Aspen Commission have met regularly to debate, discuss, and draft solutions to the mis- and disinformation crisis, which is a global humanitarian issue," Harry said on November 15, per Archewell. "This affects not some of us but all of us."
The co-chairs include journalist Katie Couric, former chief of the Cybersecurity and Infrastructure Security Agency Chris Krebs, and racial justice leader Rashad Robinson, while the commissioners include Facebook's former chief security officer Alex Stamos and Kathryn Murdoch, who is Rupert Murdoch's daughter-in-law (via Daily Mail).
Prince Harry is part of a group working to fight the 'rapid rise of misinformation'
The Aspen Institute Commission on Information Disorder exists to "examine the nation's public information crisis," and the plan is made up of strategies to increase transparency, such as content disclosure and ad transparency; to help build trust, such as workforce diversity, accountability norms, and election information security; and to reduce harms, such as civic empowerment and superspreader accountability (via Daily Mail).
According to the website for Prince Harry and Meghan Markle's foundation, Archewell, the commission started its work in the spring of 2021. The article goes on to say that there has been a "rapid rise of misinformation," which, as the Aspen Institute states, has led to a "chain reaction of harm," including negative impacts on health, climate, and democracy.
The group had discussions and heard from experts, and now, they have a Final Report that the Aspen Institute published for public viewing. It's full of 15 recommendations, which those on the commission hope are considered by those in the public, private, and non-profit sectors.