The Best Concealer For Dark Circles And Oily Skin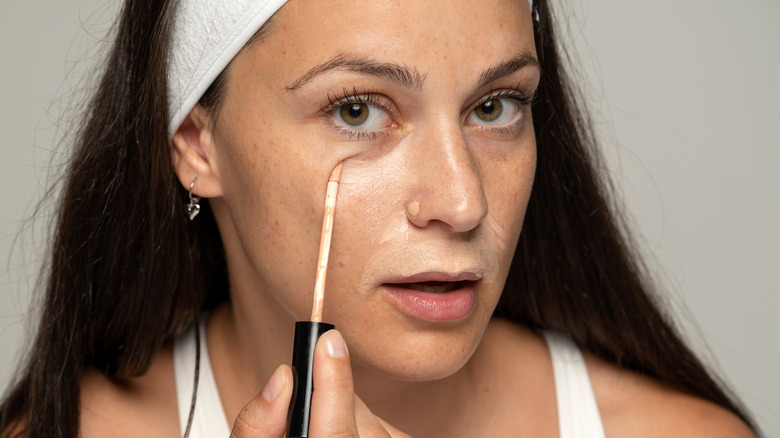 Vladimir Gjorgiev/Shutterstock
We may receive a commission on purchases made from links.
Covering dark circles is difficult enough, but finding a concealer formula that stays put on oily skin can be extra challenging. Luckily makeup innovation has come a long way and there are full-coverage concealers out there that stay matte and fresh all-day long. 
Before applying concealer though, it's important to put on an eye cream that is lightweight, yet hydrating, per Strivectin. Allure recommends Neutrogena Hydro Boost Eye Gel Cream for oily skin. The eye cream contains hyaluronic acid which will hydrate the skin, without overwhelming it. The light gel texture sinks into your under eyes and works especially well underneath makeup.
Once you've applied eye cream, you will have a smooth base to apply concealer, Strivectin recommends. This is especially important if you're applying a concealer with a matte finish. When looking for oily skin-friendly concealers, it's important to look for certain ingredients and features. Analisa Marie, a Portland-based makeup artist told Byrdie, "Oil-free, non-comedogenic, long-wear, waterproof, and lightweight' are all descriptors to look for when shopping for a concealer for oily skin."
Where you can find the best concealers that work for oily skin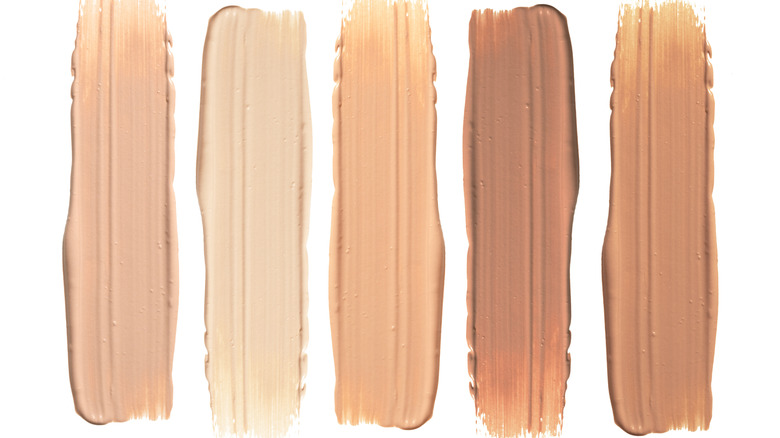 FabrikaSimf/Shutterstock
According to Byrdie, the absolute best concealer to cover dark circles on oily skin is Lancome Effacernes Waterproof Protective Undereye Concealer ($31). The product, which is available at Ulta, color-corrects, blurs fine lines and leaves a natural soft-matte finish under the eyes. It contains skin-loving ingredients like honey and chamomile extract to cancel out any signs of fatigue or stress, according to Ulta.
While it may not sound like it by the name, Tarte SEA Hydrocealer Concealer ($25) is another concealer that works well on oily skin, per The New York Post. The hydration in the product is lightweight and helps the product not crease, while the liquid-based formula itself dries to a semi-matte finish quickly.
If you have severe dark circles and oily skin, Byrdie suggests Make Up For Ever Full Cover Concealer ($32). The oil-free formula conceals darkness, while remaining absolutely budge-free. Now you don't have to break a sweat over covering your dark circles, both literally and figuratively.