The Truth About Neutrogena Acne Face Cleanser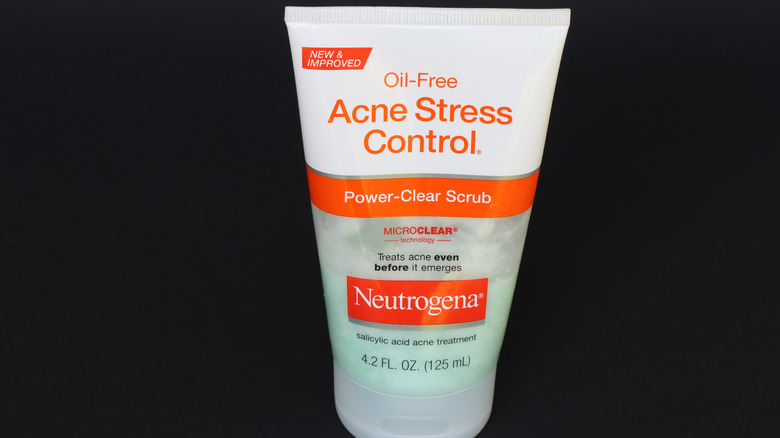 Deutschlandreform/Shutterstock
For skincare enthusiasts on a budget, Neutrogena has become a household name. The brand also comes highly recommended by dermatologists for offering active ingredients at a reasonable price, per Real Simple. If you've battled acne, or continue to battle it, then you may especially be familiar with Neutrogena Oil-Free Acne Wash. This acne-fighting staple is just under $7, per Target.
Dermatologist Erum Ilyas told NBC News face washes that the cleanser is a "great acne starter product" for teenagers. "I find that having them start by using this product in the shower introduces them to cleansing their face, shoulders, and back," Ilyas told NBC News, adding that the ultimate goal for acne-prone teens is to prevent or treat existing acne.
Cosmopolitan also ranked the Neutrogena Oil-Free Acne Wash as one of the 15 best facial cleansers with salicylic acid. The affordable price makes it an especially great choice for skincare minimalists looking for an effective acne treatment. Dermatologist Annie Chiu told Cosmopolitan that the salicylic acid in the cleanser dries out pimples, while aloe and chamomile simultaneously soothe the skin.
Neutrogena's acne cleansers are budget-friendly and effective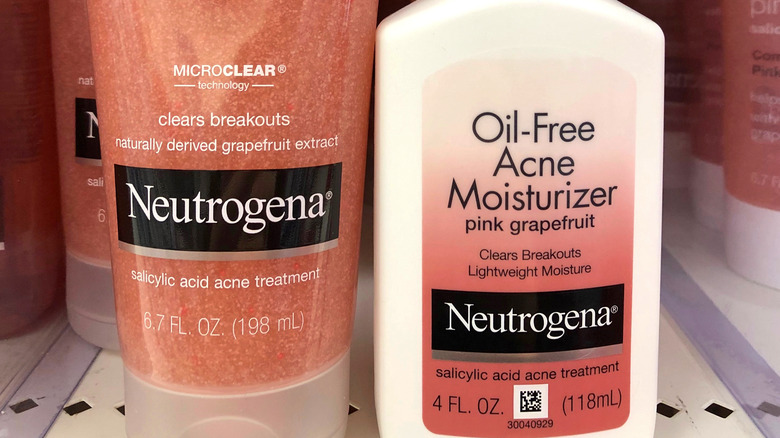 Sheila Fitzgerald/Shutterstock
According to NBC News, Neutrogena Oil-Free Acne Wash contains salicylic acid to gently exfoliate the skin and fight acne, while not drying out the skin. Dermatologist Michelle Farber told NBC News she especially likes that the oil-free formula will not cause blackheads. NBC News also compiled a list of the top eight face cleansers for acne, based on feedback from dermatologists and the general consensus was to recommend Neutrogena Oil-Free Acne Wash.
Neutrogena also offers several other acne face washes that have high ratings from customers. The brand's Pink Grapefruit Oil-Free Acne Wash is also popular with actress Lana Candor, per Teen Vogue. Candor told Who What Wear, "I really like this face wash because it's oil-free, doesn't clog my pores, and is really quick and easy!" The cleanser also contains salicylic acid, along with vitamin C and grapefruit extract (per Neutrogena). 
If you're suffering from "bacne," Neutrogena also has body wash versions of the original acne wash and the grapefruit acne wash. And if you have sensitive skin that is acne-prone, Neutrogena Oil-Free Acne Wash Redness Soothing Facial Cleanser is a gentler option to help clear and heal your skin (via Neutrogena). The face wash has a 4.5 star rating on their website. With Neutrogena Oil-Free Acne Wash, you can clear up that dreaded "maskne," without having to spend a fortune.