Why Steve Bannon's Message While Surrendering To The FBI Has Twitter In A Tizzy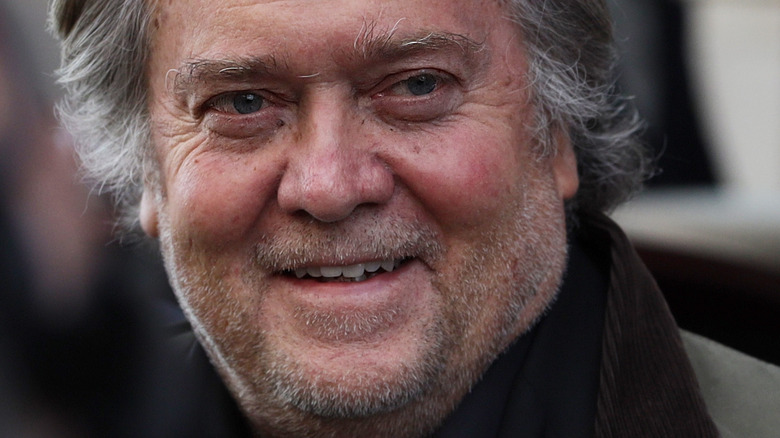 Alex Wong/Getty Images
Steve Bannon's comments while surrendering to the FBI on November 15 has caused quite a stir on social media. 
As Politico reported, the longtime ally of former president Donald Trump surrendered to the FBI on November 15, after being indicted on contempt of Congress charges several days earlier. Bannon was indicted on November 12 due to his refusal to cooperate with the House select committee's investigation into Trump's attempt to overturn the 2020 election results and the ensuing Capitol riots on January 6, 2021.
Speaking outside the FBI's Washington D.C. office following a court appearance alongside his defense attorney, David Schoen, Bannon addressed a crowd of reporters and proclaimed his innocence. Despite surrendering to the FBI, the former Trump White House political strategist insisted that the Justice Department had taken on the "wrong guy" (via USA Today).
"I'm telling you right now, this is going to be the misdemeanor from hell for Merrick Garland, Nancy Pelosi and Joe Biden," Bannon told reporters, per USA Today, adding, "We're taking down the Biden regime ... Remember, signal not noise. This is all noise. That's signal." He continued, claiming, "Joe Biden ordered Merrick Garland to prosecute me from the White House lawn when he got off Marine One and we're going to go on the offense. We're tired of playing defense. We're going to go on the offense on this." But that wasn't all he had to say.
Social media was enraged over Steve Bannon's comments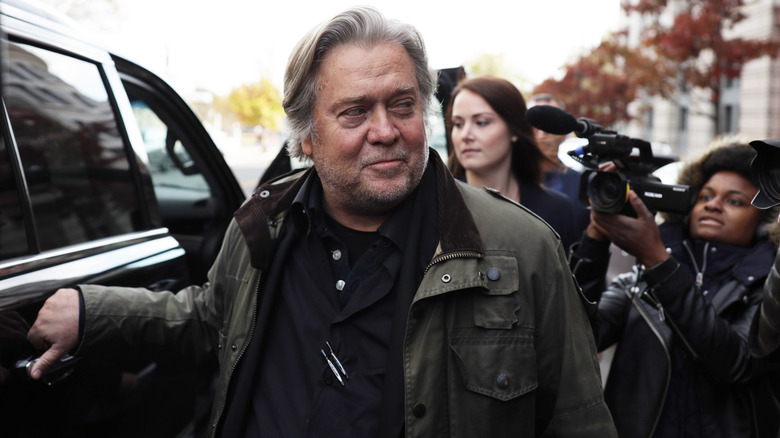 Alex Wong/Getty Images
Per Politico, Bannon went on to claim that any criminal charges against him should outrage Americans from all political persuasions. "Not just Trump people, not just conservatives, every progressive and every liberal in this country that likes freedom of speech and liberty, okay, should be fighting this case." He added, "That's why I'm here today, for everybody. I'm never going to back down, and they took on the wrong guy this time, okay?"
Despite — or perhaps because of — Bannon's defiance, his comments rubbed many on social media the wrong way. "Bannon mouths off and lies through is teeth. Fact: He was one of those instigating the Jan 6 insurrection," one Twitter user claimed in response to Bannon's claims of "taking down" the so-called "Biden regime." Another person said, "Like all Trump followers Bannon is DELUSIONAL. A pathetic old man who thinks his blather actually means something. Steve, you just got 'taken down' by the FBI." A third user took issue with Bannon's idea that President Joe Biden personally saw to his arrest. "President Biden was NOT behind Steve Bannon's prosecution, It was all Steve Bannon," they wrote. "All he had to do was to show up, he didn't, he defied the subpoena! Anyone that thumbs their nose at the law should be held accountable!!"
However, others were quick to defend the former political strategist. "Bannon is a true American hero and patriot," another person commented in response to Bannon's recent comments.